I'll start by saying that these cookies are for people (like me) who prefer their sweets to have a salty twist to them. I need my sweets to have some sort of a counter flavor. It could be salty, acidic, bitter or a nice combination of the three. If I can play with textures, I do that as well, cause texture makes different flavors, even though it sounds weird. This cookie is just the right combination of sweet, salty and bitter, has a slightly crispy coating and a chewy, sticky center.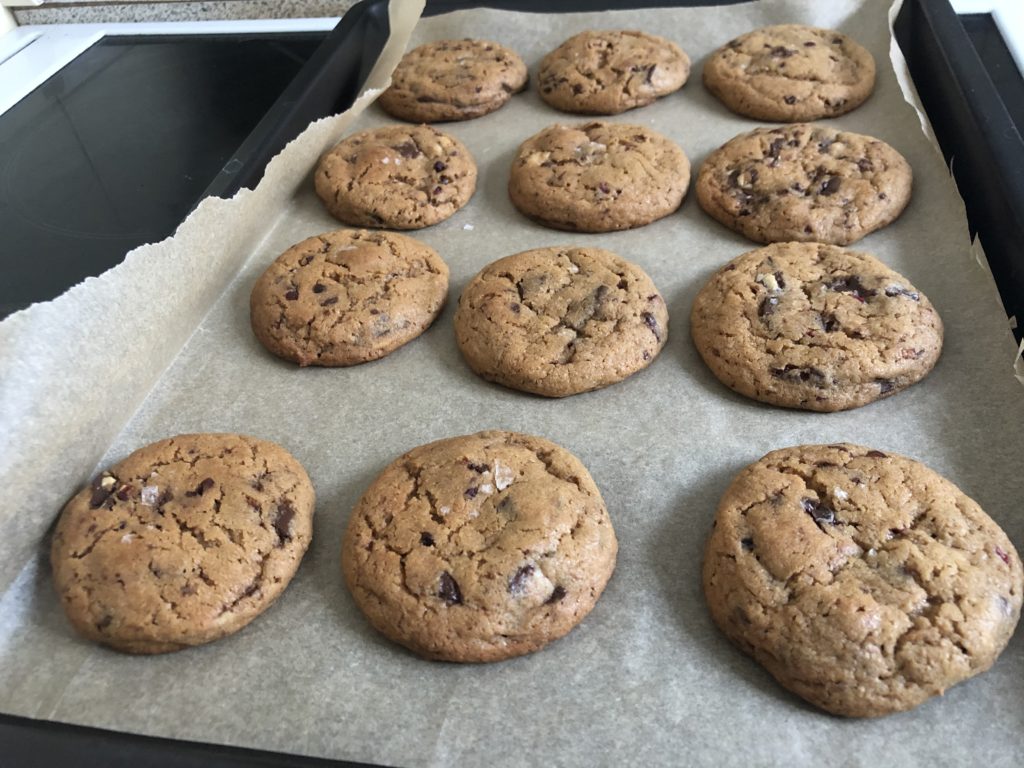 These cookies took a few tries to reach the right baking time, baking temperature and ingredient amounts, but I feel like I got to the right combination. In my recipe, I used Marzipan Ritter Sport, dark chocolate with salted almond pieces and some crushed freeze-dried raspberry. You can use a combination of dark and some white (I would add 5 more grams of miso paste in case os using white chocolate though), or just plain dark chocolate. I also used Maldon salt flakes on top, which is totally optional and depends on your taste. I feel like it highlights the flavors in the cookie.
I really like baking one pan (between 8 and 12) and keep the rest in a ball form in the freezer. that way I enjoy fresh cookies in no hassle. So let's jump into the recipe!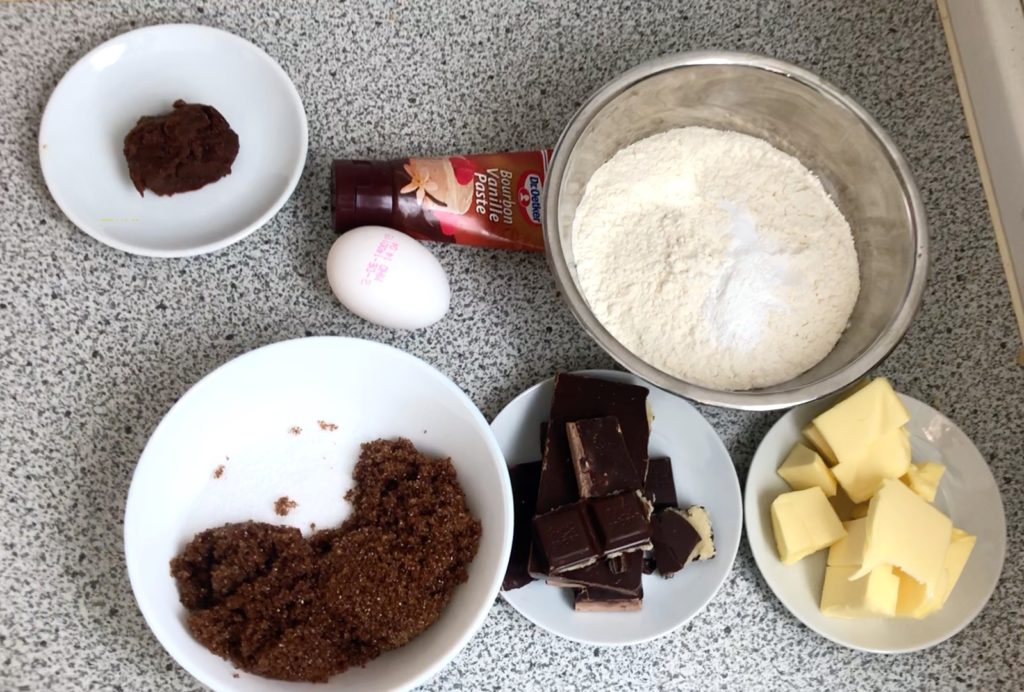 Miso Chocolate Chunk Cookies
20 Cookies
Ingredients:
– 100 gr Butter
– 35 gr Shiro Miso
– 80 gr Sugar
– 100 gr Dark Brown Sugar
– 200 gr Flour
– 2 gr Baking Powder (around ½ tsp)
– 2 gr Baking Soda (around ½ tsp)
– 1 egg
– ½ tsp vanilla paste (or extract)
– ¼ tsp Salt
– 120 gr Dark Chocolate (or chocolate chip, they could also work)
– 1 TBSP freeze-dried raspberry (optional)
– Maldon salt (optional)
First, cut the chocolate into small chunks and set aside. In a medium bowl, mix flour, baking soda, baking powder, and salt and set aside. Cream together with a hand mixer (or a stand mixer) the butter, sugars, and miso paste until creamy and fluffy. Add egg and vanilla paste and mix again. Sieve the flour mixture into the main bowl and blend again until almost all incorporated. Scrape the edges if needed. Add the chocolate and the freeze-dried raspberry and mix using a spatula until evenly distributed. Weigh 30-35 grams pieces from the dough and form the most perfect balls you could possibly make from each piece of dough. Put the cookies on a pan coated with baking paper or plastic wrap, top with some Maldon salt flakes and freeze for at least 30 minutes.
Before taking the cookie dough balls out of the freezer, heat an oven to 175°C. When the oven reached the temperature, take just as many cookies you'd like to bake and place them on the pan, leaving pretty big gaps between them. Bake 11-13 minutes, until the edges are golden-brown and center is golden. You'd see some cracks starting to form on the cookie surface.  Take the cookies out and move onto a cooling rack. Let them cool for 15 minutes before eating so they are firm enough. Enjoy!
Don't forget to tag me on social media so I can see your results!
#ShirEats or my handle on Instagram: @ShirEats