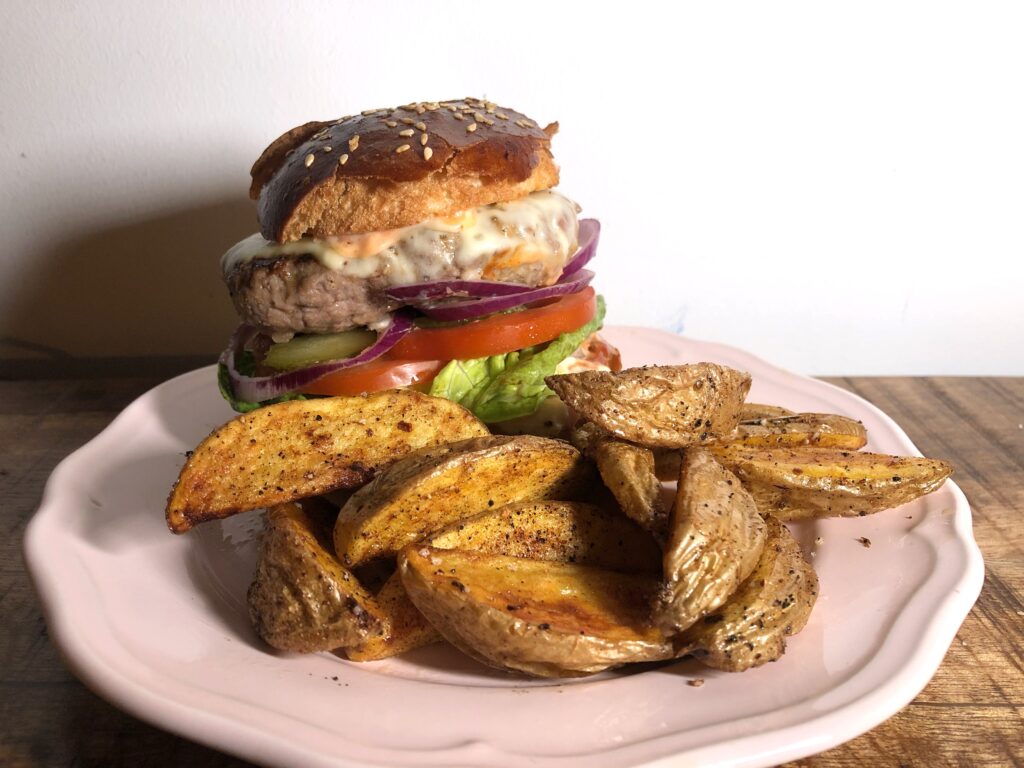 When I lived in Israel, I mostly took homemade frozen burgers from my mother and made them when I felt like it, so I never had the need to know what parts you need for a burger, or how much fat a patty should have. After moving here to Berlin, knowing almost nothing in German at that time, so asking the butcher at the supermarket or at the butchery seemed like a difficult task for me and my social anxiety, I bought just minced meat from the supermarket, the boxed kind. I just chose the mixed beef and pork, thinking the pork fat will cover for the beef low fat.
At a later stage, I figured you can actually look for the fat percent, and understood it's way too low for a burger. I mean, It worked okay and was tasty but didn't have the wow factor. So with this upgraded, though still affordable and accessible one, I chopped some bacon strips as thinly as possible, to add that extra fat back to the supermarket minced meat. And it was a game-changer. Also, if you feel less meaty, you have to try my vegan mushroom burger!
To be honest, the burgers are just an excuse to make the most amazing oven-baked potato wedges you would ever eat, as a side dish. I always make too much and eventually don't enough room for the burger.
Bacon Burger
Watch the video:
2 patties
– 300 gr minced meat
– 30 gr chopped bacon
– 20 gr ketchup
– 1 tsp salt (6 gr)
– ¾ tsp ground black pepper (4 gr)
In a medium bowl, mix all the burger ingredients until everything is evenly spread. Part to mixture into two portions, around 175 gr each. Since I am a baker, I scale everything, but you can just eye-ball it. Then, roll each portion into a ball and smash it to a disc shape. smooth the edges using the thumb and middle finger to create the perfect rounded edges. If you eat them on the same day, place them on a covered plate and chill in the fridge. If not, store in the freezer, covered with plastic wrap, and preferably in a ziplock bag as well.
I like to prepare all of my veggies and condiments in advance. Cut tomatoes and red onion into thin slices, salt and pepper them. Cut pickles diagonally, as thinly as possible. The lettuce I either cut into confetti or just leave it whole if I'm lazy. In terms of sauces, I use ketchup, mayonnaise, and sriracha in my burger. But if you're feeling fancy, you can mix 2 parts mayonnaise to 1 part ketchup to ½ part mustard, add salt and pepper, and finely chopped pickles and onion to create something similar to a Mcdonald's sauce.
Heat a griddle pan, cut your bun in half, and toast it slightly in the heating pan. Spread both sides of the bun with the sauce you made, place the veggies and the top half. When the pan is hot, place the burgers on it and let them fry for at least 3 minutes. Then, move them a bit with a spatula, let them fry for another 1-2 minutes, and flip. Now it's time to add the cheese. Cover the burger with the cheese and then pop a lid on top to make the steam melt the cheese. after 3 minutes or so your burgers are ready. Place them on the bottom part of your bun, close it and enjoy!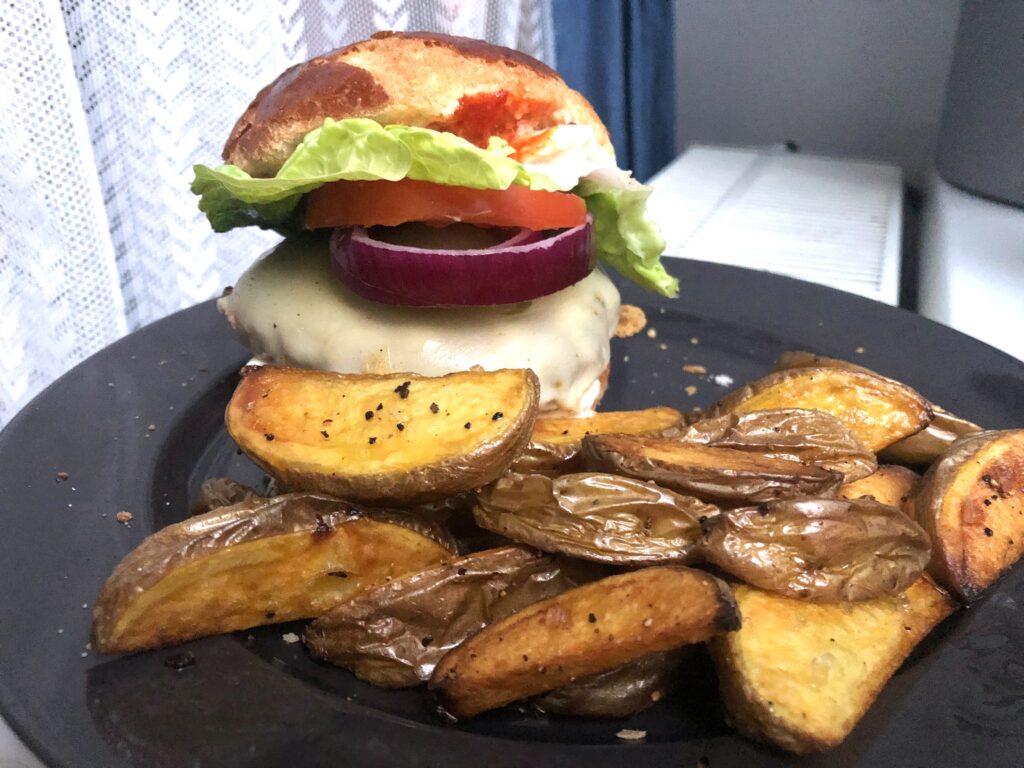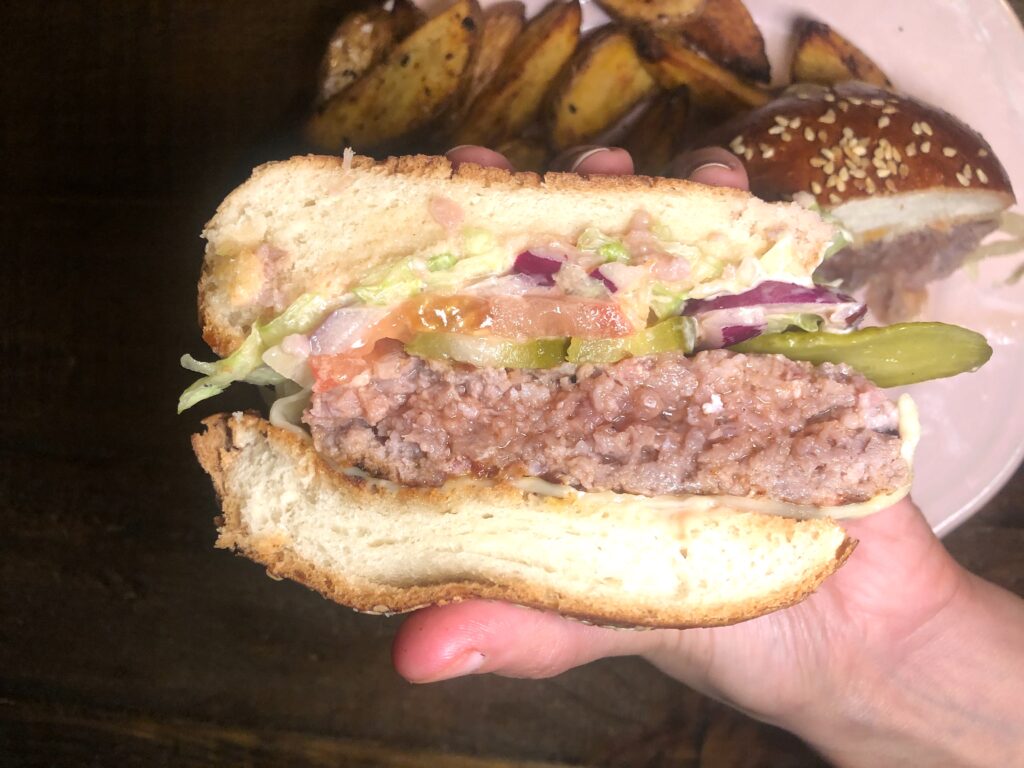 If you make it, please tag me @ShirEats on Instagram. I want to see what you came up with!