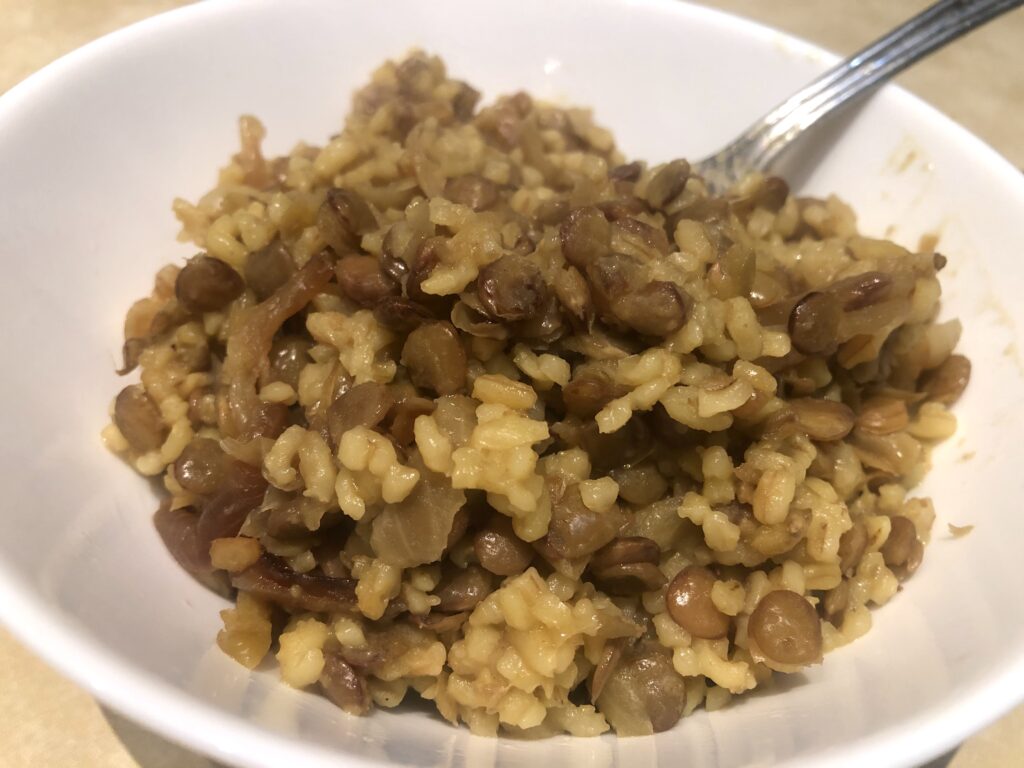 Mujadara is a beautiful, succulent, and vegan dish that originates in Iran, consists of lentils, rice or bulgur, and caramelized onions. I only knew the rice version and learned recently about the bulgur option, but never had the chance to try it myself. Although I am a rice fan, I will be hard-pressed to return to make it with rice after trying this.
Growing up, I didn't like the texture of lentils, so naturally, I disliked Mujadara. But since my palate had changed and developed, I discovered the beauty in lentils in general, and specifically in this very luscious, comforting, and largely filling dish. Some people only garnish with the caramelized onion, but a friend told me she is cooking it in the rice with the parboiled lentils, so I tried and it's amazing! The entire stew is getting this deep sweet flavor of slowly caramelized onions. But you can always stir it in once it's all cooked.
Bulgur Mujedara
2-3 servings
– 3-4 medium onions (or more, it's really never enough)
– 4 tbsp olive oil
– ½ cup lentils
– ½ cup bulgur
– ½ tsp turmeric
– ½ tsp cumin
– 1 cup cold water
– Black pepper
– 1 tbsp olive oil
Method:
Start by caramelizing the onions. Slice the onions thinly. To a large skillet on medium-low heat, add the olive oil and the sliced onions and stir occasionally. It takes around 20 to 30 minutes until the onion slices get very soft and brown. After around 15 minutes when they start browning, add a teaspoon of salt to release liquid from the onions. This liquid helps steam the onion slices and soften them. Every few minutes, add around one tablespoon of water and stir vigorously. If you want it a bit sweeter, add ½ a teaspoon of sugar as well. When the onion slices are soft, brown and a tad sweet, take the pan off the heat. You can use it in so many other things, so I usually just make extra and store it in the fridge.
While the onion caramelizes, prepare the lentils. Rinse them very well in a sieve under cold running water until the water comes out clear. Boil water in a small pot, add one teaspoon of salt, and the washed lentils. Cook for 20 minutes, drain and wash again under cold water. Wash the bulgur in a sieve until the water runs clear. To a dry pot, add one tablespoon of olive oil, turmeric, and cumin, and let the spices open a little, around 30 seconds on medium heat. Add the washed bulgur, stir to cover all of it in the seasoned oil, add the water, and bring to a boil. Add the cooked lentils, the caramelized onions, one teaspoon of salt, and some black pepper, and lower to minimum heat. Cover and let cook for 20 more minutes. Serve hot with finely chopped fresh salad and garlic tahini sauce on the side.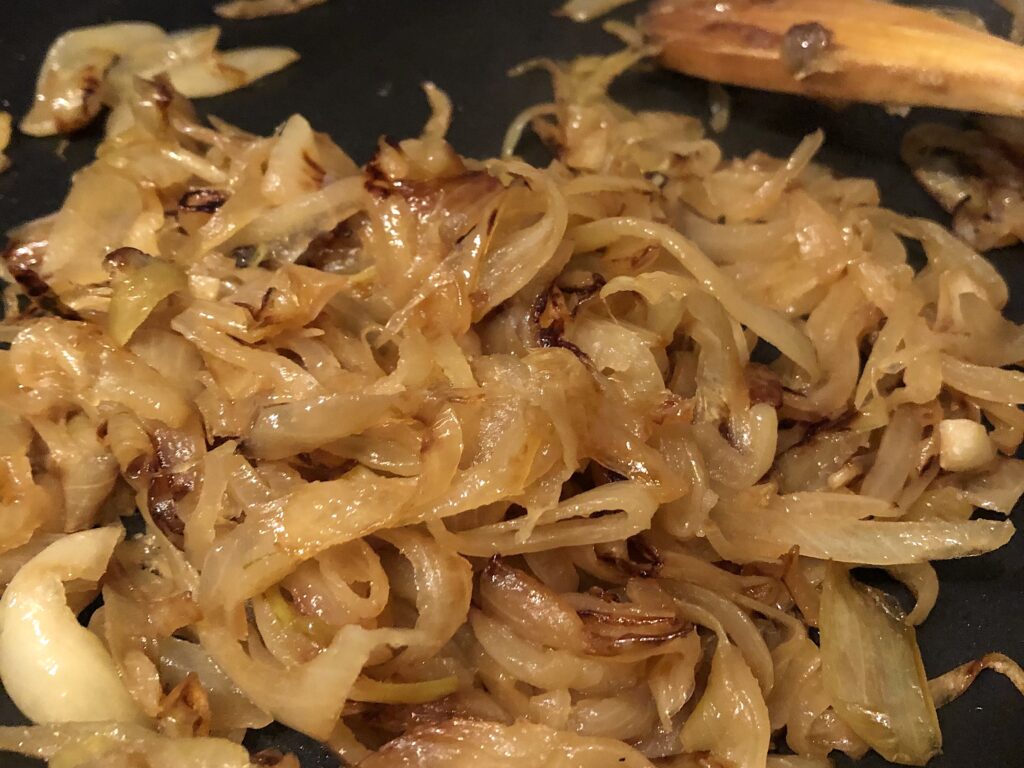 If you make it, please tag me @ShirEats on Instagram. I want to see what you came up with!