Jachnun is a delicious slow-cooking pastry that originated in Yemen between the Jewish diaspora. It's basically a caramelized-confit pastry and can be eaten either savory or sweet. I prefer the savory option with fatty sour cream, crushed tomatoes and Yemenite hot sauce – Zehug.
My first time making Jachnun will always be etched in my memory. It was in a rented apartment in Tel Aviv, with a disgusting marble countertop and with no AC in the kitchen during the Israeli summer. I used a mixer I received from my parents for my birthday that year to make it. I sent my mom pictures of the dough so that she can confirm the texture is right. After alterations and a two-hour rest, so it would be super elastic and easy to work with, I spread a silicon mat to start stretching it, cause the countertop was disgusting, as mentioned. What can one expect from an old Tel Avivian apartment? It's a miracle I even had a countertop. Or a kitchen… (Jump to recipe).
ANYWAY, back to the story.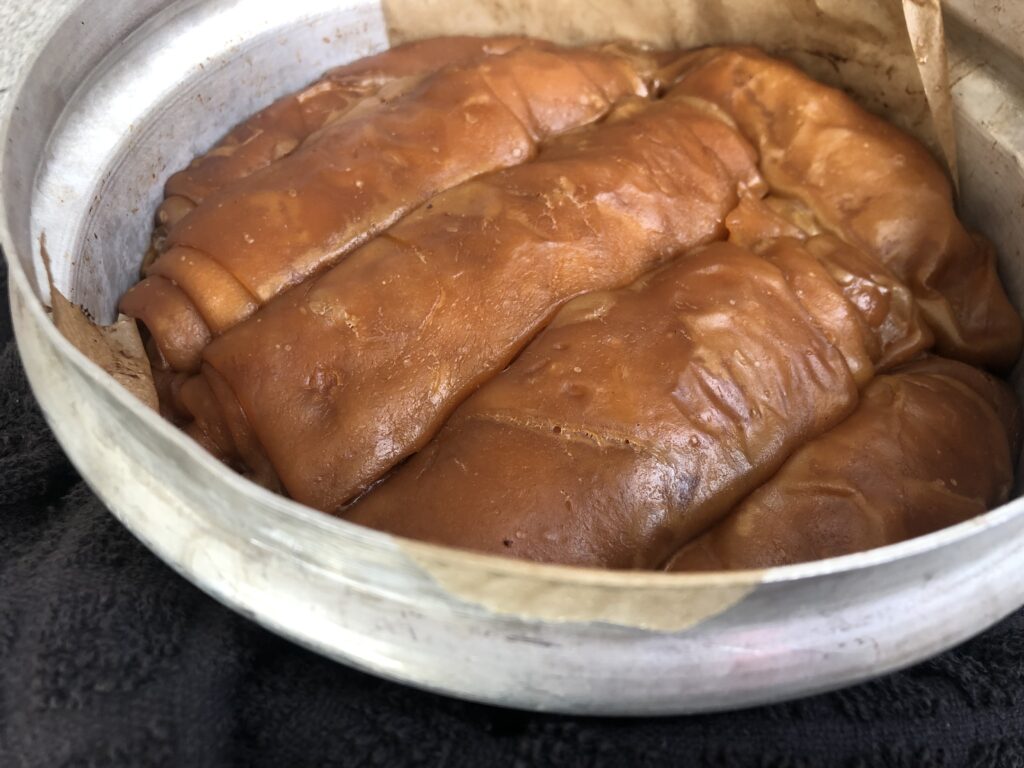 After the dough rested, I started to stretch it, ball after ball. At first with a rolling pin, then I committed to the process fully and made it by hand. You need to see the surface through the dough. If it's not transparent, it is not thin enough. I gently stretch between my fingers as I rotate the dough, each time stretching slightly so that the dough does not tear. As I stretched the dough, spread the butter over it, and rolled it, something moved inside me. I thought of my grandmother and my mother, and tears began to flow down my cheeks. I felt connected to my origins as I had never experienced before. It was like a click between me and the dough. And that's where my love story with Jachnun began.
Since then, I've tweaked it to suit my taste, which is how I came up with this recipe. You're probably wondering how good this could be. Well, let's just say my mother is now making it with my little tweaks and changes. Yep, I know. My Yemenite mother, the one who taught me everything I know, is now making Jachun based on MY recipe. Insane!
Originally, Jachnun was cooked on a hot plate for an entire night, because in Judaism, it's prohibited to use the oven on Shabbat. But nowadays we use ovens. Baking it on very low heat for at least 12 hours, preferably more. The result is a sweet-savory, soft, and aromatic layered pastry that you can roll out to its core.
Tutorial on my youtube channel:
Jachnun
15 pieces 80 gr each
Ingredients:
– 750 gr flour (405 in Germany)
– 120 gr sugar
– 15 gr cooking salt
– 500 ml hot water
– ¾ tbsp date honey (or replace with honey/molasses)
– vegetable oil for greasing
– 200 gr melted butter to open the dough (to veganize, replace it with oil or vegan butter)
In a mixer bowl with a kneading hook (or a hand mixer with dough hooks/manually) add sugar, flour, salt, and one cup of water mixed with the date honey. Knead for about 5 minutes (if you knead it manually, use chopsticks at the beginning cause it's too hot to touch with bare hands). If the dough is not sticky enough, add more of the hot water until the dough is sticky to the touch but doesn't stick to the fingers. The test: take a piece of dough between the thumb and the finger, squeeze it between the two fingers and open them, the dough should stretch slowly between the fingers. Form a large ball from the dough, oil the bowl, and let it rest for 20 minutes in the bowl covered with a towel or cling film.
After the dough rested, form it into balls (80 grams each), place them on a baking tray lined with baking paper and greased with vegetable oil. Cover with cling film and a towel for another two hours, in which the balls of dough develop the elasticity needed to open it in the thinnest way possible. Melt butter. Roll each ball (while the others are covered so that they won't dry out) on an oiled surface, possibly with a rolling pin or with your hands. The technique can be seen in this video. Gently stretch each part of the dough in the air, and only when it's getting thinner, lower it to the oiled surface and stretch a little more on the surface until the dough is see-through. You can also roll it straight on the oiled surface with a rolling pin at first and then stretch it with your hands. In the first method, I found that the dough comes out thinner and it's more transparent. The thinner the dough, the more layers it will form when rolled.
Now, when the dough is stretched and thin, dip your hand in the melted butter and smear a thin layer on it. Fold it into a third-fold. First, one-third of the dough inwards, and smear melted butter (or oil, for vegan Jachnun) on the folded part. Fold the other end over the first end, smear butter over the folded area, and roll into a cylinder, as tightly as possible. Place the pieces of rolled dough next to each other in an oven-safe aluminum pot lined with old bread and parchment paper over it. The layer over the first one is placed as seen here and keep going until you're done.
The bread at the bottom of the pot prevents the Jachnuns at the bottom from burning and absorbs oil residue, so they don't come out soaked in oil. When finished layering the pieces, add parchment paper over the last layer, and you can add up to 6 eggs over the parchment paper to make browned eggs. In case you want to have more than six, it is best to use a separate pot and put it with the Jachnun in the oven all night after cooking the eggs on the stove for 15 minutes. It's optional to add onion peels to the water to color the eggs.
Bake at 150°C for an hour, on regular baking mode (top and bottom heat, don't use convection!). After that, reduce the heat to 100°C and bake for a minimum of 12 hours. To prevent the Jachnun from drying out, add a third cup of warm water after about 4-5 hours of baking. Pour it over the Jachnuns and cover again with the parchment paper and the lid. The aluminum pot and the parchment papers actually create a sauna for the Jachnuns. With water added, the sauna continues to work longer, resulting in soft, juicy Jachnuns.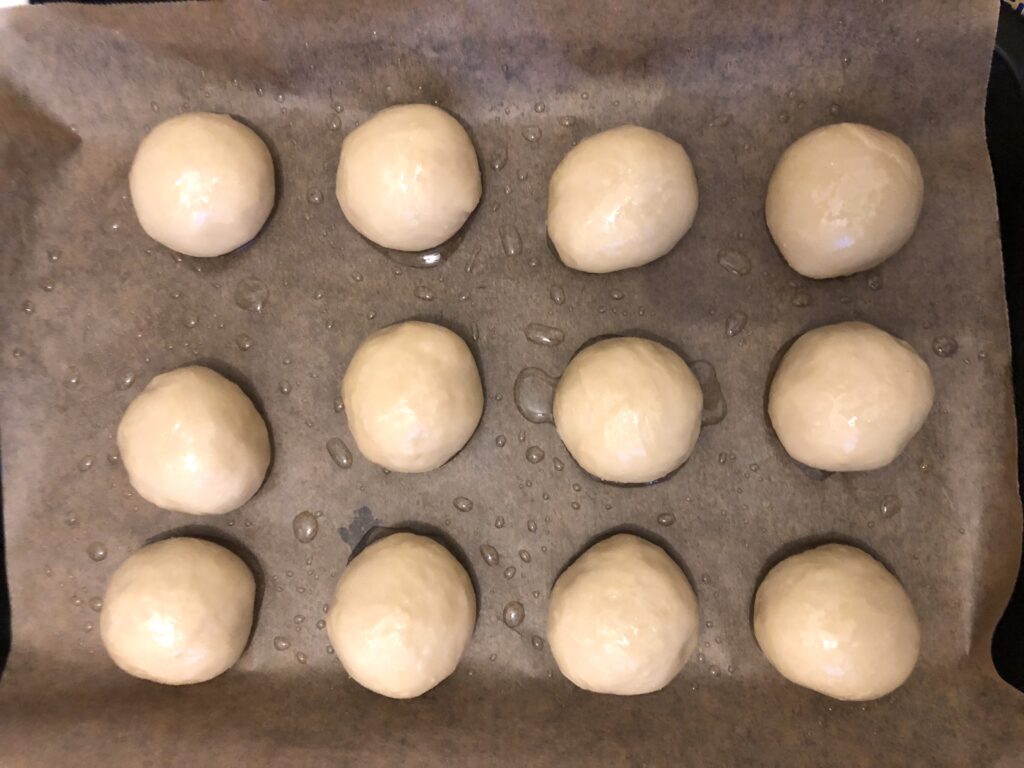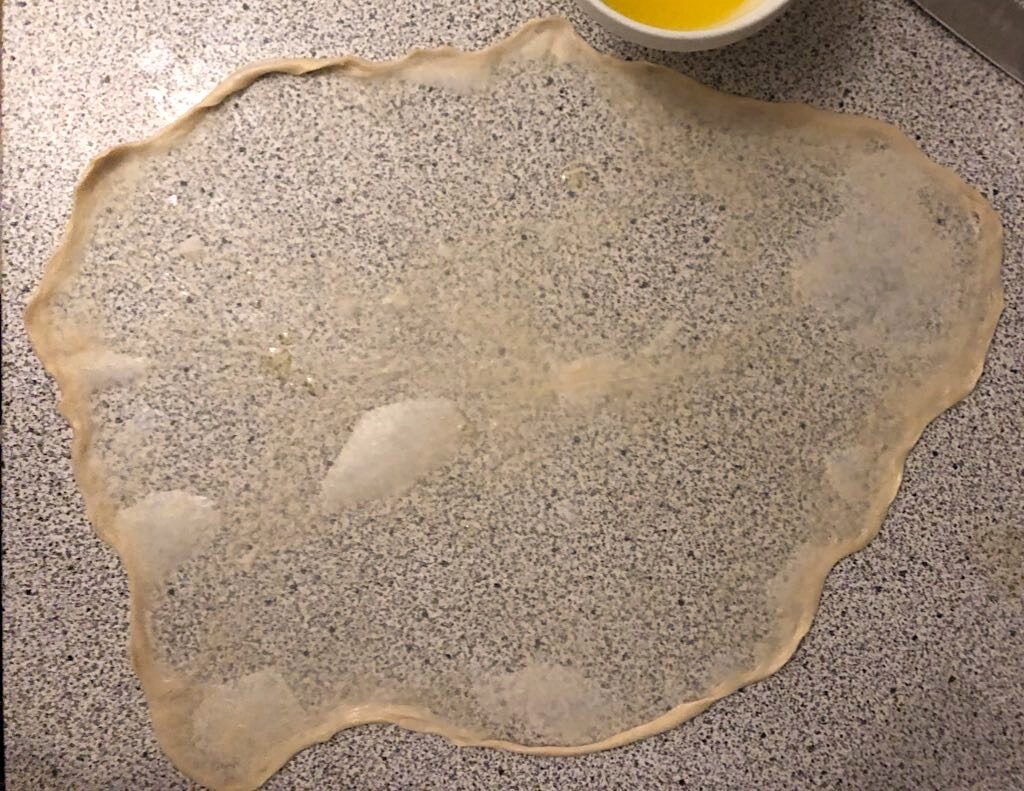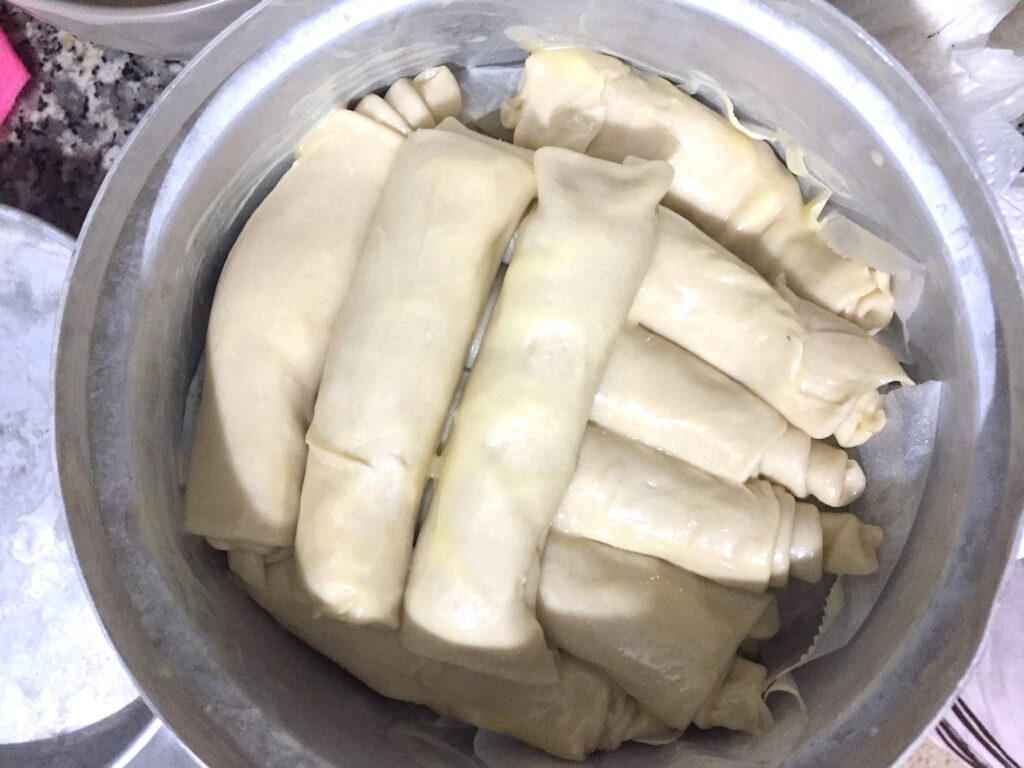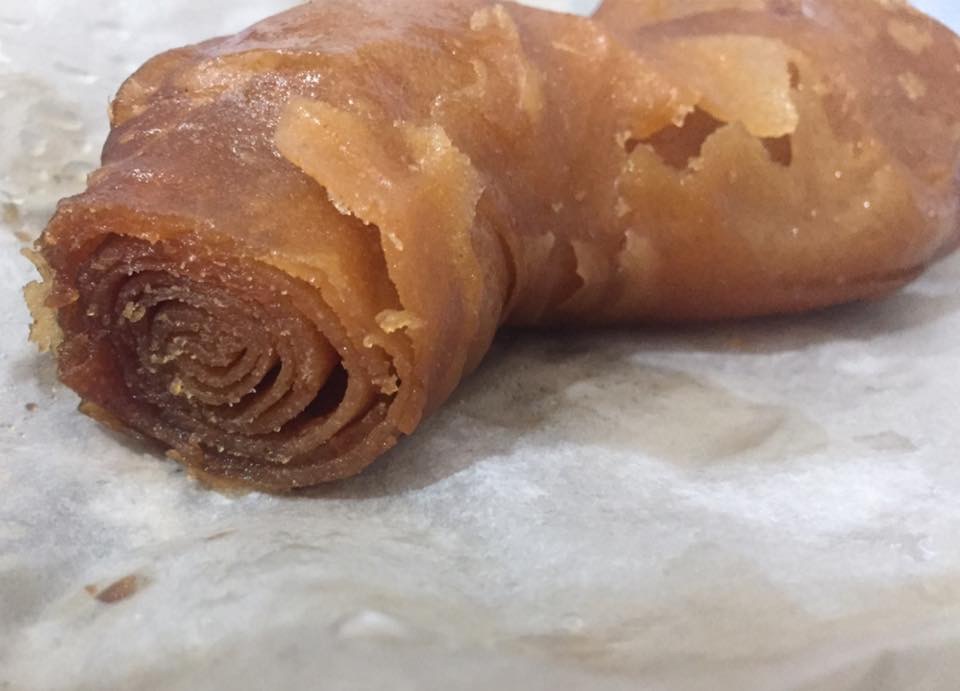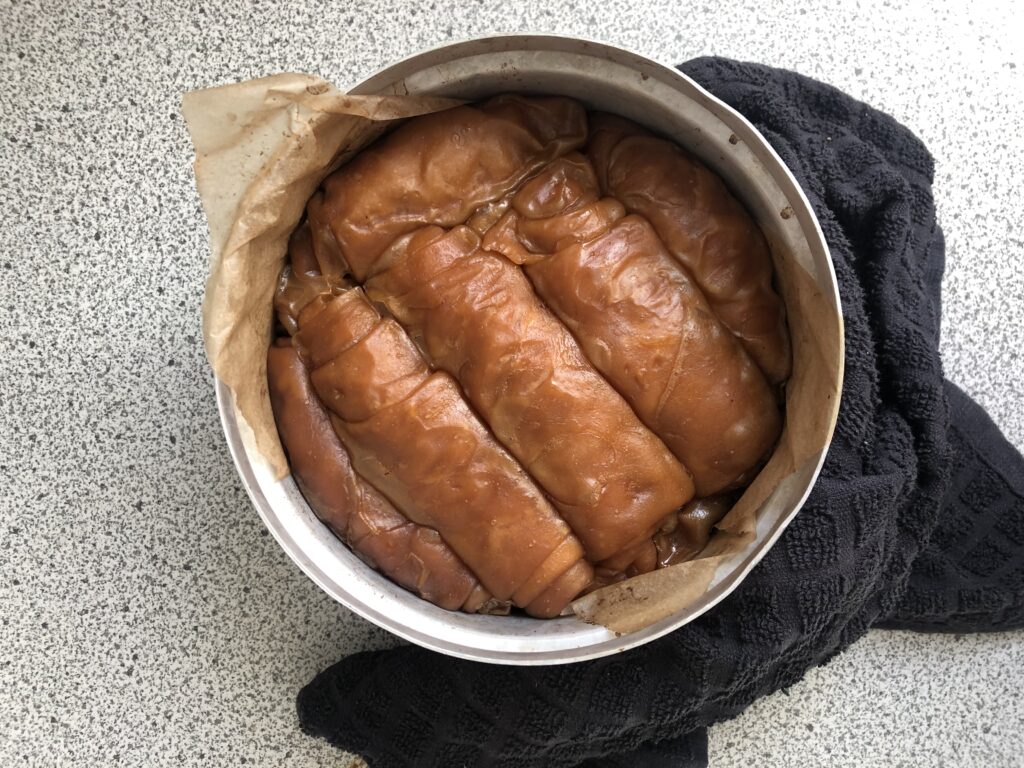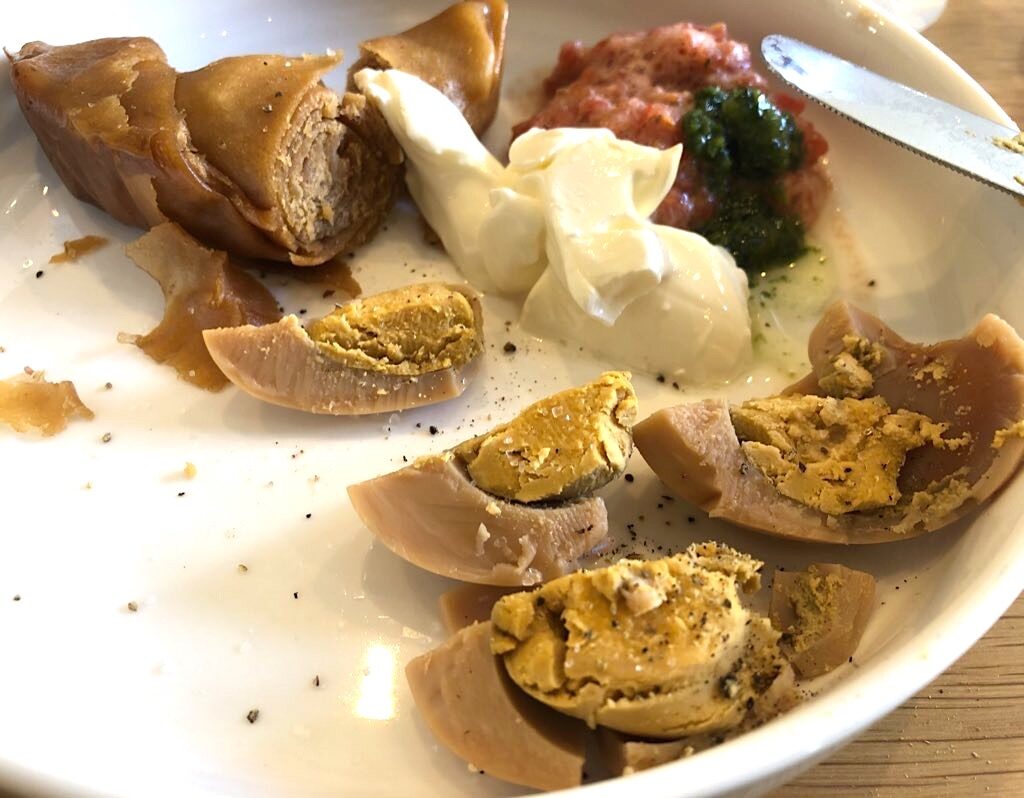 If you make it, tag me on TikTok or Instagram – @ShirEats I would love to see what you made!