I am an omnivore, so I haven't tried many veggie burgers in my life but this is the absolute best of them! In the ones that I did try, I struggled with soy protein/lentil/bean added flavors. It affected the texture and ruined the wonderful mushroom mouthfeel. For me, at least. So when developing this recipe, I knew I wanted to focus on the mushrooms, because that was the part I really enjoyed. I have never made a vegan burger before, so it needed wide research. I developed it for a client (as a cooking coach) and it turned out so good I had to upload it to my website as well!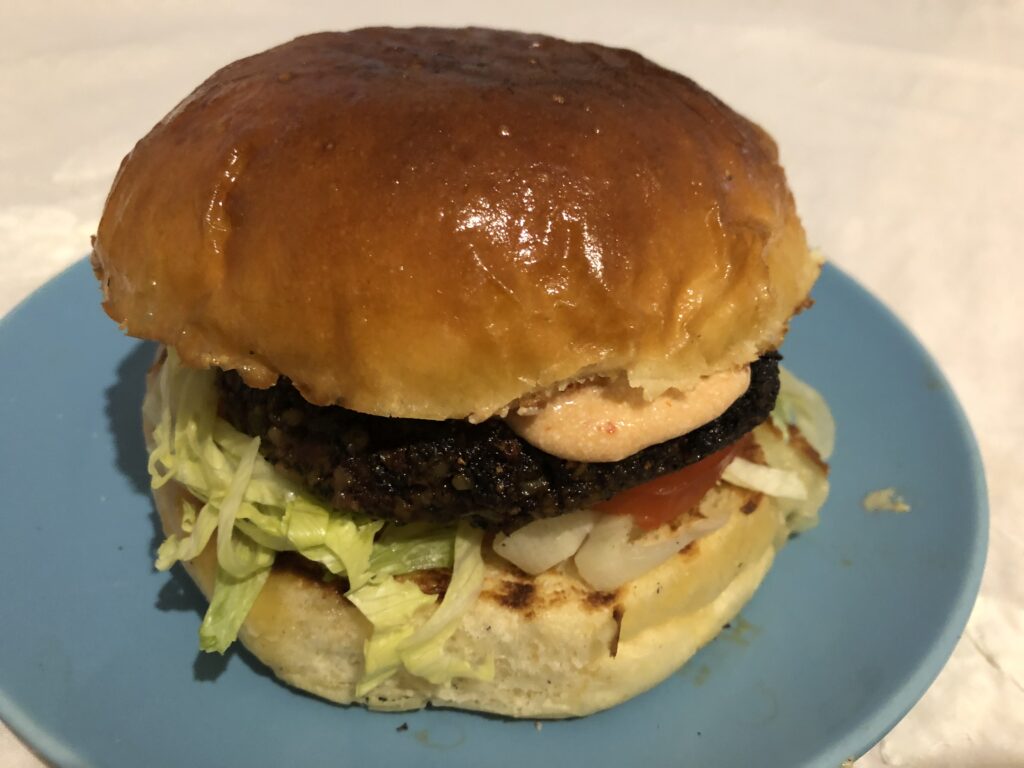 The first try was a texture disaster, and even after I tried baking it on high heat for 30 minutes, it still totally fell apart. But making mistakes is okay if you learn from it. And I did. I read some more recipes, researched to understand every ingredient's purpose and my options on how to achieve the right texture without ruining the flavor.
When I reached the right texture, I added a little bit of cooked grated beetroot, to increase the earthiness and to cut the strong umami flavor by an inch, making it less heavy and firm. It also improved the color of the patty, made it look more like a burger. To make the binding effect that happens naturally in a meat patty, I mixed cornflour with a little bit of warm water to create a really starchy paste. I also used mild flavor grains like oats and cooked bulgur, to keep the mushroom flavor the star of the show.
For this recipe, you would need a hand blender or a food processor. I used a manual food processor and it worked fine. You blitz all the ingredients together until a wet sand texture is formed, do not blitz it to a paste! You want to leave some chunks to create the burger texture. Form into patties and fry immediately on high medium heat. Serve in a bun with vegan thousand island dressing (recipe below), some veggies, maybe potato wedges on the side and you are all set!
Note: The bun in the photo is not vegan, but any vegan bun would work just fine!
Vegan Mushroom Burger
Makes 2 patties
Ingredients:
– 120 gr mushrooms (any kind)
– 1 small onion
– 3 tbsp cooked bulgur
– 2 tsp tomato paste
– 1 tbsp rolled oats
– ½ tbsp breadcrumbs
– 1½ tsp cornstarch paste (cornflour with a little bit of warm water, and mix until it's pasty)
– 2 tablespoons cooked and grated beetroot 
– ¼ tsp turmeric
– ¼ tsp black pepper
– ¼ tsp garlic powder
– Olive oil
– Vegetable oil for frying the patties
Dice the mushrooms and onion, fry the onion in a pan with olive oil on medium-high heat till golden. Take it out onto a strainer, in case of any excess water. In the same pan with one tablespoon of olive oil, fry the chopped mushrooms. The purpose is to dry the vegetables before adding them to the burger mixture, cause they release water when they cook, and then the patty falls apart.
Cook the mushrooms in the pan for a few minutes until they shrink and brown a bit and stir from time to time to make sure they don't burn and are cooked evenly. Take them out and place them in the same strainer with the onion.
Grate the cooked beetroot and place in another strainer, press it against the strainer to remove excess water, again, to prevent the patty from falling apart in the frying process. In a food processor, blitz the oats to smaller pieces, so the blending with the other ingredients would be smoother. Add all the other ingredients and blitz until it looks cohesive. Taste and fix seasoning if needed.
I highly recommend to take a small portion of the mixture and try to fry it. That way you see if it holds up or it needs more tweaking. If it falls apart, add a little bit more of the dry ingredients (such as breadcrumbs, flour, cornflour, bulgur, tomato paste, or the cornflour paste). Frying also concentrates the flavors, so the flavor of the raw mixture is not necessarily the flavor of the fried patty, so it also gives you an idea of the final flavor and an option to fix seasoning.
Shape the mixture into burger patties the size of your choice. Heat a non-stick pan to medium-high heat. Add vegetable oil, 5 mm high. When hot, place the burgers and fry without touching them at all for at least 3 minutes. Then with a thin plastic or metal spatula, gently slide it under the patty, careful not to mess the shape, and flip it. Give the other side another 1-3 minutes, and take it out to a cooling rack if eaten without a bun so it won't get soggy.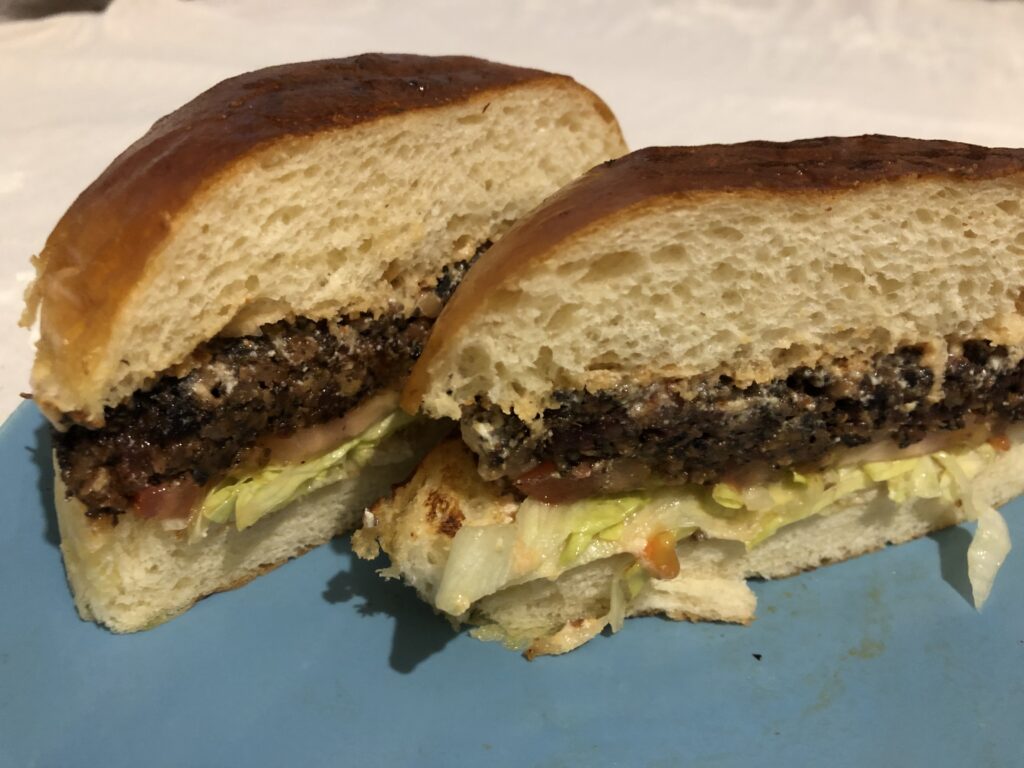 To make the vegan thousand island dressing that the burger is served with, you first need to make silken tofu cream.
Ingredients:
– 140 grams silken tofu
– 1½ tsp salt
– ¼ tsp white pepper
– ¼ tsp turmeric powder
– ¼ tsp garlic powder
– 1 tbsp lemon juice
– ¼ cup of water.
Add only half of the water and all the other ingredients in a blender, blitz until smooth. Keep adding water until you get to your preferred consistency. It keeps in a sealed jar in the fridge for a week.
Vegan Thousand Island Dressing
– 2 tbsp silken tofu cream
– 1 tsp ketchup
– 1 tsp sriracha
– ½ tsp mustard
– Salt and pepper if needed
Mix them all together.
Use in sandwiches, veggie burgers, dipping sauce for fries or snacks, etc.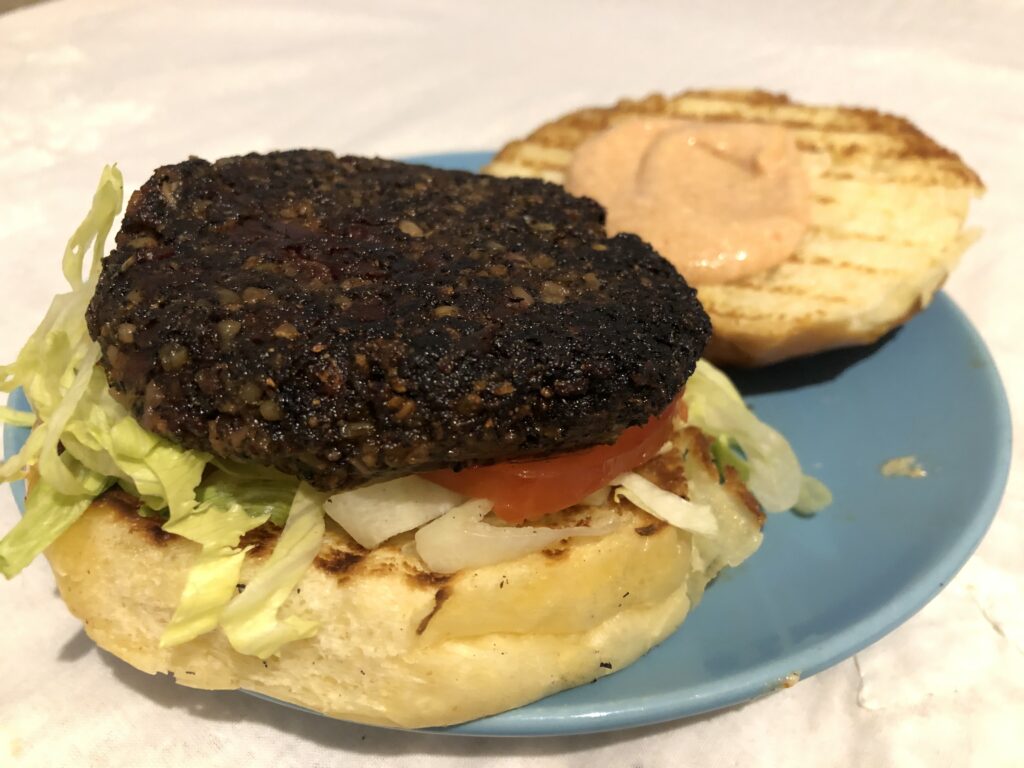 Don't forget to tag me on social media so I can see your results!
#ShirEats or my handle on Instagram: @ShirEats