I actually came up with this salad idea as I built a cookbook for a client, that had many restrictions due to allergies. The fresh variation is kind of a classic bulgur salad (tabula), and it's great and refreshing, but I wanted to suggest a variety of options to make it more appealing. In the process of building the recipes for my client, I fell in love with this ingredient. As a person who mainly eats unhealthy food, It felt like a chilly breeze on a hot summer day. So it totally became one of my staple meals.
Bulgur Salad 3 Ways
Watch the making video:
1:1½ bulgur to water ratio
– 1 cup bulgur
– 1½ cups cold water
– 1 tsp salt
Rinse the bulgur well, until the water comes out transparent. Drain, pour onto a pot, add the water, and cook on high heat until the water is boiled, add the salt, cover with the lid and take it off the heat. Let it do its thing for 15 minutes off the heat, again. After 15 minutes, open the lid and fluff it up with a fork. Let it cool while making the other ingredients. This amount is good for the three salads, so I say just mix how much you like with the ratio of the other things. It can be kept in the freezer when it's clean, so add it gradually to your veggies.
To defrost: add a bit of warm water to the storing container and shake, it doesn't have to be warm cause it is meant for salads, but just defrosted. Then, just strain it and mix it with your ingredients. 
The Fresh
– 1 tomato
– 1 small cucumber
– ½  small red onion (or a whole shallot)
– 1 bunch of coriander (or parsley, you can mix between them and also add a small amount of fresh mint)
Optional but adds a lot: Feta cheese/goat cheese
For the tahini sauce:
– Sesame paste
– Cold water
– Lemon juice
– Sumac
– Salt
– White Pepper
Cut all the vegetables thinly, mix in with the chilled cooked bulgur. Season with olive oil, salt, and lemon juice. Make the sauce: mix sesame paste with water, lemon juice, and spices to your liking until a pourable consistency is created, but not too liquidy. Pour it on top of the salad, crumble some feta, drizzle a little bit of olive oil on top, and season with sumac, zaatar, and black pepper.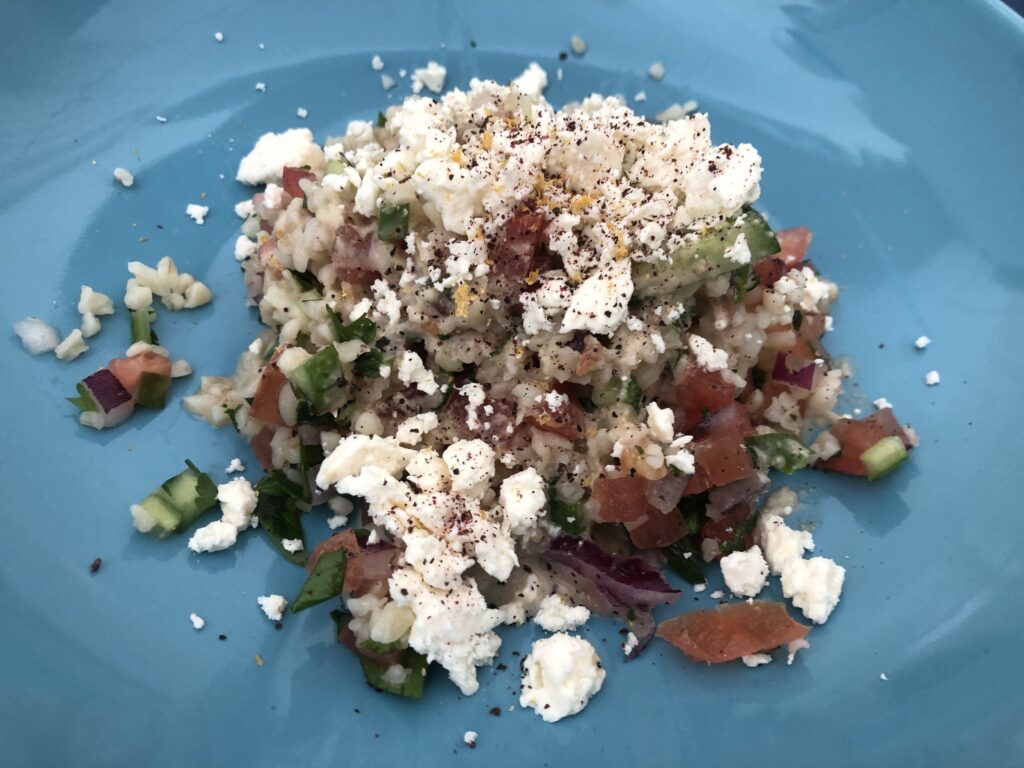 The Fruity
This salad is so much fun. I love combining fruits in a salad, and any fruit here gives a totally different energy to this salad. Have fun, explore, I suggested some ideas I believe would work nicely.
– 1 pear (interchangeable with apple, mango, blueberries, kiwi, grapes, orange, pomelo, etc)
– ¼ bund of herbs (I used parsley)
– 2 tbsp nuts (I used almond sticks)
– 1 tbsp almond sticks (or pecans, walnuts, cashew)
– 20 gr Feta cheese (can be replaced with and will benefit from blue cheese)
Optional: Seeds, dried fruits (such as blueberries, cranberries, date pieces, apricot pieces). 
For the vinaigrette:
– 2 tbsp Olive oil
– 2 tbsp Balsamic vinegar
– 1 tsp Mustard
– 1 tsp Honey
– Salt and pepper
Toast the nuts in a dry pan on medium-high heat, until golden. Cut the pear into bite-size cubes. If you want to be extra, roast them for 1 minute on a hot griddle pan. Toast the nut of your choice on Wash the herbs and dry them. Chop roughly and add to the bowl with the cooked and chilled bulgur. Ad the pear cubes and crumble the cheese pon top. Toss it all together and see if you want any adjustable with the other ingredients. In a small jar, add all the vinaigrette ingredients and shake rapidly until all combined and it looks glossy. Pour over the salad and mix. Add the roasted nuts on top and another small crumb of cheese.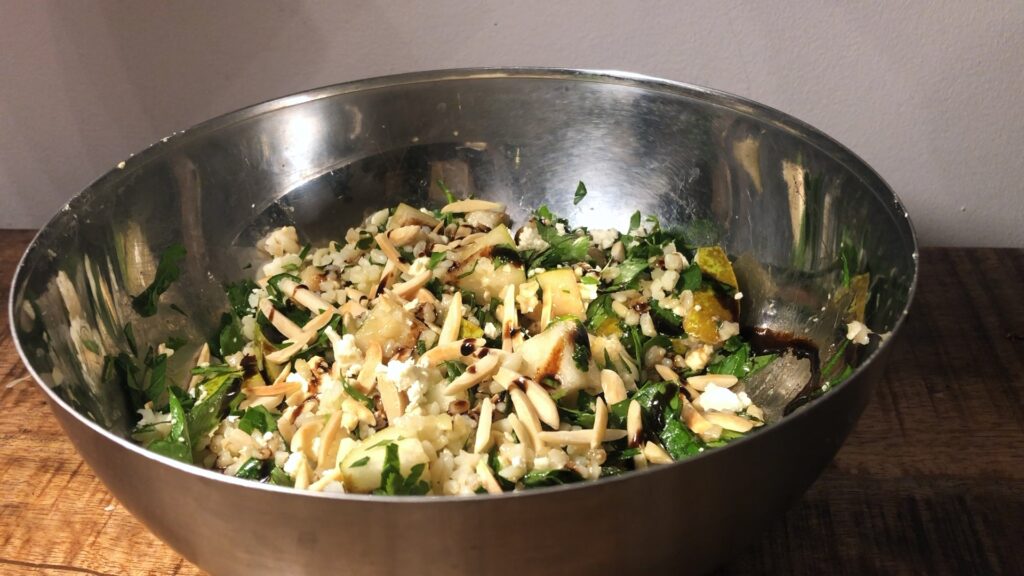 The Roasty
Probably my favorite variation, especially for this time of the year. Even though they all have their own unique vibe. Super autumn-winter kind of atmosphere to it, very comforting and filling without being too heavy. Also adjustable, just use any other roasted vegetables you like. 
– 1 small Hokkaido pumpkin
– 2 small carrots
– 1 small eggplant
– 1 small zucchini
– Around 10 mushrooms
– Olive oil, salt, and pepper for roasting
– Parsley
– Feta
For serving:
– Balsamic vinegar
– Black pepper

Note: The vegetables can be replaced with any other that you like to roast. For example bell peppers, garlic, broccoli, cauliflower, sweet potato, other kinds of squashes, hot chili, onion, leeks, beetroot. 
Cut the veggies into small ½ cm cubes, put them in a pan lined with a baking sheet, drizzle with a lot of olive oil, add salt and pepper, give every veggie part a mix with your hands, and bake on 200℃ for 30-40 minutes, until cooked and a bit brown. Let it cool for a bit but not completely, and mix with the cooked bulgur (in this recipe, can be slightly warm). Season every serving with a tablespoon of balsamic vinegar (no need for oil cause there is enough in the veggies), and a dash of black pepper. Top with roughly chopped parsley and crumbs of feta, and serve.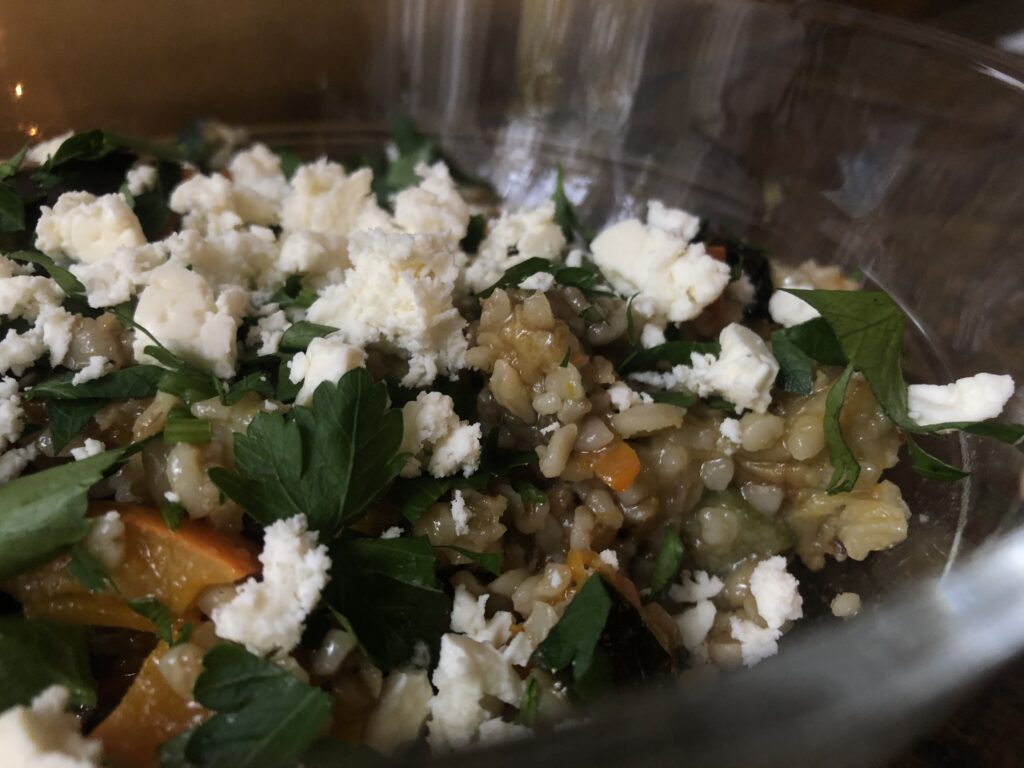 If you make it, please tag me @ShirEats on Instagram. I want to see what you came up with!