These matcha cookies are super addictive, I warn you. They are crispy on the outside and soft, melt in your mouth kinda cookies on the inside. They are slightly bitter but not overly matcha-y, they are small, so you eat them three at a time, and in general, they're the perfect little upgraded butter cookies. Jump to recipe.
I really like matcha (Japanese green tea powder), and I especially like matcha in desserts. Its earthy bitterness gives a wonderful counter flavor to sweet elements and helps create a more interesting flavor profile. This is why I like experimenting with it in sweets. You can also check this beautiful soft matcha marble cake. 
There are varying quality levels of matcha, I don't use in my recipes the high-end kinds cause there are extremely expensive and will be wasted in such a setting I feel like. They should be consumed as pure traditional matcha drinks. I use mid-level matcha, as long as the color is decent, it's good. It is still a relatively expensive ingredient and I believe it's still not widely used in the private household. But if you want to experiment, these flakey matcha cookies are a good place to start! White chocolate is a classic combination with matcha, cause its intense sweetness is balanced by the matcha's bitterness and creates this beautiful flavor journey.
Matcha White Chocolate Shortbread Cookies
24 cookies
Ingredients:
– 8 gr matcha powder
– 120 gr flour
– 85 gr soft butter
– 65 gr powdered sugar
– ¼ tsp salt
– 1 egg yolk (what to do with the extra egg white)
– 25 gr white chocolate
Optional: 1 tbsp lime zest from half a lime/1 tbsp smashed freeze-dried raspberry (or use chocolate with one of those)
In a small bowl, mix matcha and flour, and set aside. Cream butter, salt, and powdered sugar with a hand or a stand mixer until smooth and fluffy. Add the egg yolk and blend again until incorporated. Sieve the flour mixture into the butter bowl in two batches (if you use the zested lime, add it in this step). Fold gently with a spatula between the batches. Cut the white chocolate into small pieces and add them to the bowl. Mix again just a bit with the spatula. Half the dough and create a 4 cm cylinder of each part of the dough, wrap them in plastic wrap, and let it chill in the freezer for at least two hours to set.
After the dough has chilled, heat the oven to 175℃. Take one cylinder of dough from the freezer and with a slight warm big knife, cut it into 7 mm cookies. Space them on an oven tin with baking paper, 2.5 cm apart. Bake for 11-13 minutes until they look firm but still strong green. Let the cookies cool on a cooling rack to set completely.
Enjoy!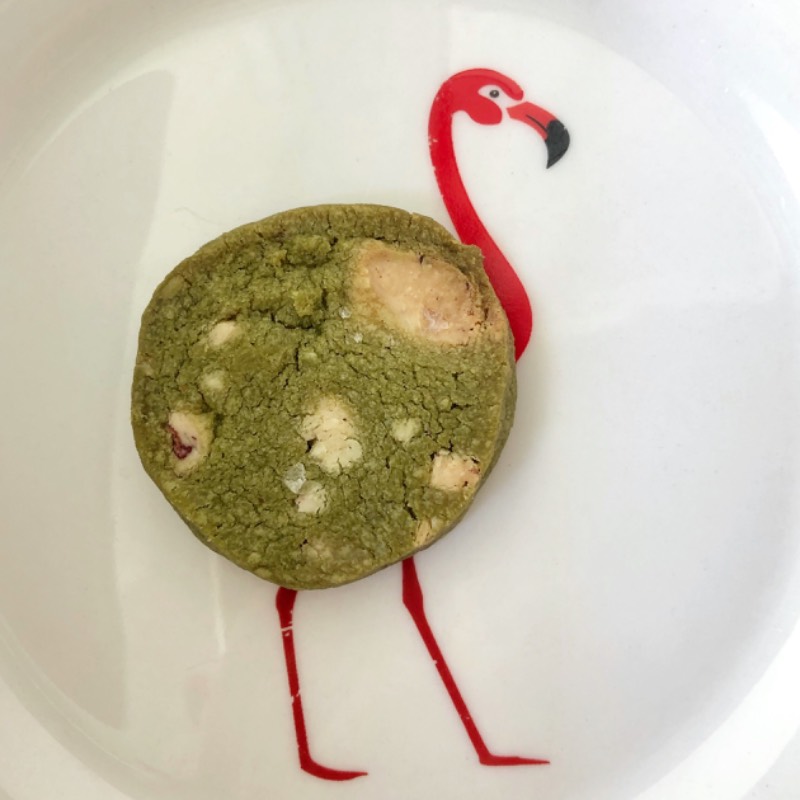 If you make it, please tag me @ShirEats on Instagram. I want to see your creations!