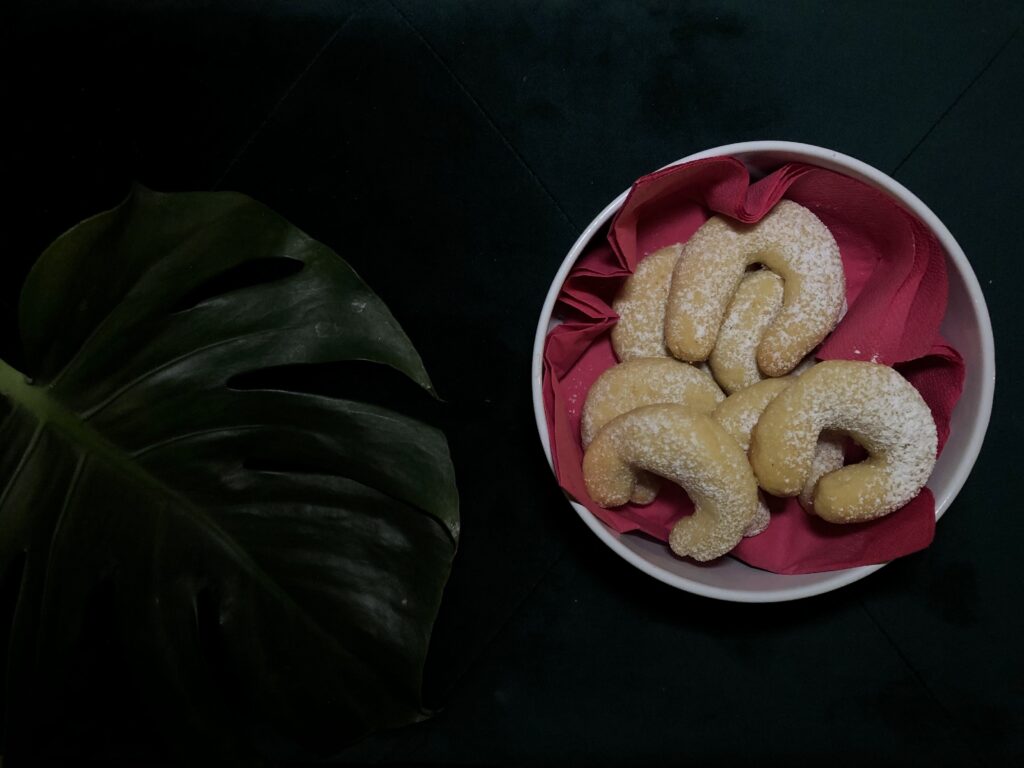 I discovered these wonderful Austrian Christmas cookies while I was taking my first ever German class. My teacher sent me a recipe in German I needed to figure out and make them. They turned out super yummy so I made them over and over again. Originally, they are made with hazelnuts so feel free to replace the almonds with hazelnuts, but I love them more in the almond version. Super easy to make and the result is crumbly melt in your mouth vanilla nutty bomb. Jump to recipe.
The powdered sugar on top and the moon-like shape give it a festive vibe that would make you take out the Christmas decorations early. And it comes from a Jewish girl. So bring all your holiday spirit and let's make these easy and delicious cookies!
Vanillekipferl: Austrian Christmas Nut Cookies
Watch video:
36 cookies
Ingredients:
– 100 gr almond powder (or any other nut)
– 200 gr flour (I use typ 405)
– 165 gr cubed soft butter
– 60 gr sugar
– 2 egg yolks
– ½ tsp salt
– 6 gr vanilla sugar
optional: 1 tsp almond/marzipan extract (only in case you are using almond meal and not another nut powder)
For dusting:
– 30 powder sugar
– 4 gr vanilla sugar

Sieve the flour into a medium bowl, add the nut powder, and mix. With a hand mixer, whisk butter and sugar until fluffy. Add the yolks, vanilla sugar, and salt. Whisk together, and when all is incorporated, add the powders and mix it starting to form a dough. You can finish off the kneading process by hand, so you wouldn't over mix. At first, the texture would be sandy, then bigger chunks, and at that stage finish it by hand or give it another five to ten seconds in the standing mixer. 
Half the dough, create a thick disc from each half, cover with plastic wrap and chill in the fridge for one hour. Optional: chill it overnight and take it out of the fridge half an hour before you start working with it for an easier forming process.
start with one half of the dough while the other one is resting in the fridge. Weigh dough pieces in 15 grams each, and form them into a moon shape or a horseshoe if you will. First, create a tight snake with thinner edges and then bend them into the shape. Bring the edges to the center facing each other but not too close so they wouldn't connect in the oven. Put them in a pan lined with baking paper in 2 cm spaces and chill in the freezer for 15 more minutes. 
Meanwhile, heat the oven to 180℃. After 15 minutes and when the oven is hot, take the pan off the freezer and bake the cookies for 9-11 minutes until the edges are slightly golden. Be careful when you take them out of the oven, the consistency is very soft, I accidentally dropped the pan and some of them cracked, but fear not! We have vanilla powdered sugar to cover our mistakes. After the cookies are set (wait around 5-10 minutes), drop them into the powdered sugar when they are still warm and toss them in there gently. Wait for them to set 10 more minutes, and now they are ready to eat!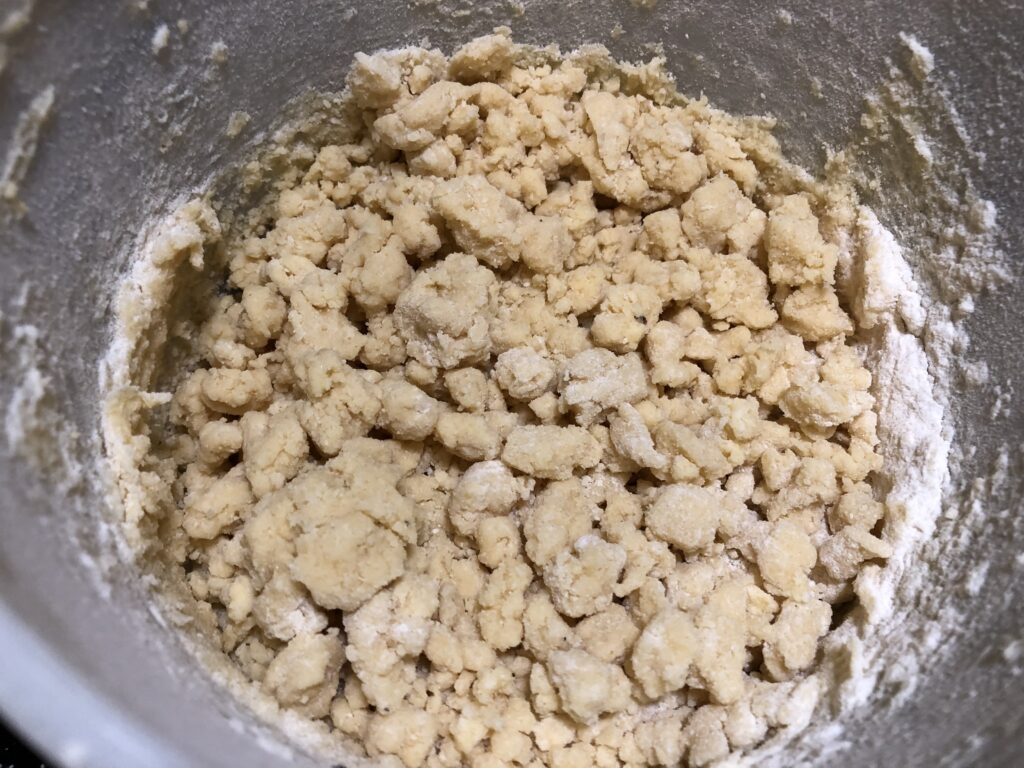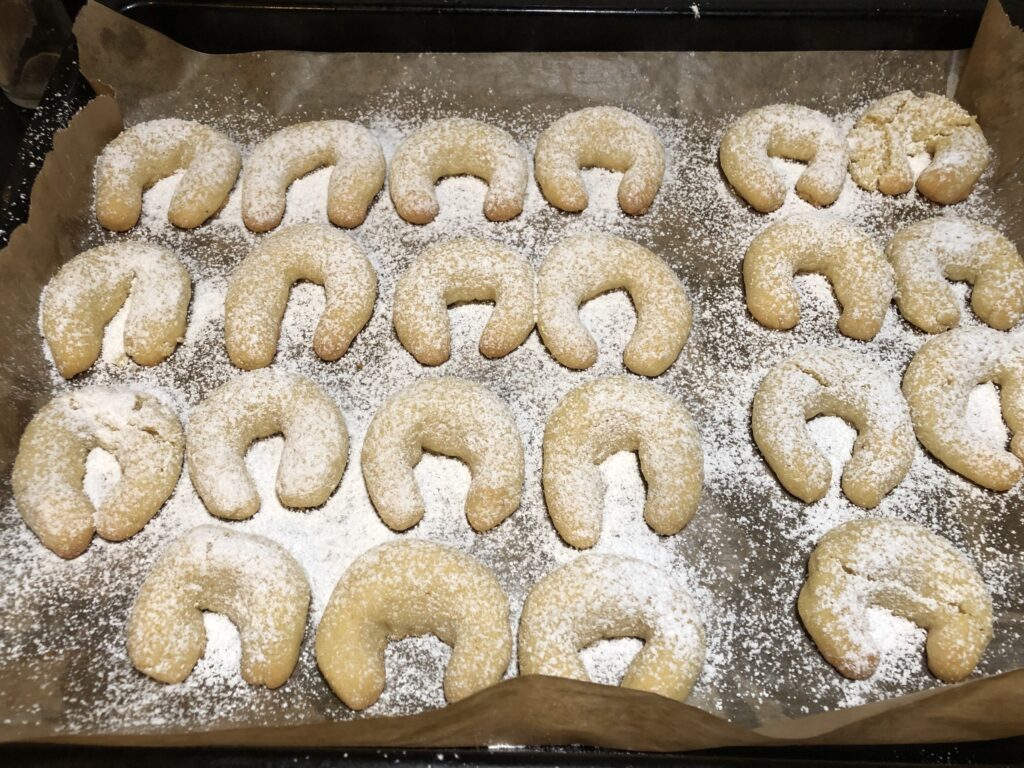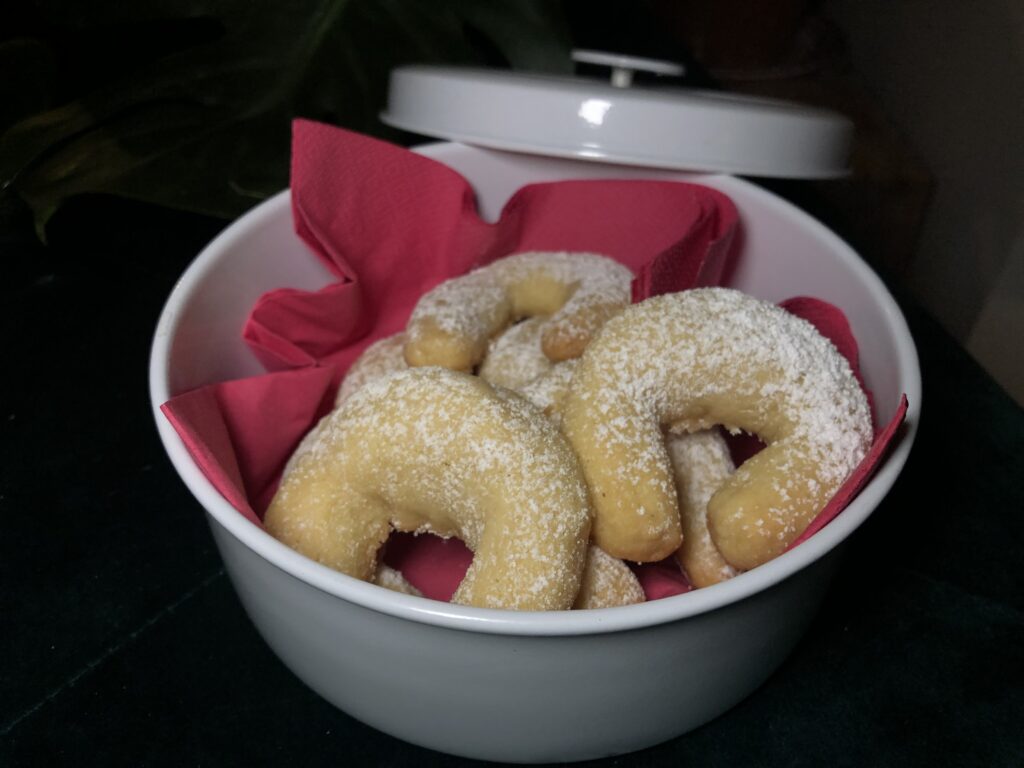 If you make it, please tag me @ShirEats on Instagram. I want to see your creations!
And Happy Holidays!