In need of the perfect coffee cake? I got your back!
Sometimes, all you need is a soft, airy, and comforting cake with or without a cup of coffee. A cake that melts in your mouth, a cake that understands, a cake that is not overly sugared, a cake that makes you go back for more. This is a kind of cake that makes me go to sleep, thinking about my next morning coffee so I can finally eat it again. 
I developed this recipe after making another cake that required some buttermilk. But the buttermilks in Germany come in a pretty large container usually (500 ml), so I had to find other things to do with my open buttermilk. I thought matcha would be quite the perfect match here, adding its special bitterness and earthiness to an otherwise, pretty basic cake. The first trial was too flat. I mean, the flavors were nice but not quite there. So I tried again. This time it was just right.
Matcha Marble Cake
26×8 loaf tin
ingredients:
– 2 eggs
– 100 gr sugar
– 170 gr flour
– 5 gr baking powder
– ½ tsp salt
– 15 gr softened butter
– 120 gr buttermilk
– 70 gr vegetable oil
– 5 gr matcha powder (~2 tsp)
Optional: ½ tsp almond/vanilla extract
In a small bowl, mix flour, baking powder, and salt. Set aside. Whisk with a hand mixer or a stand mixer the eggs and the sugar until bright and fluffy, around 5 minutes. Add the oil gradually while keep whisking for 2 more minutes. Add the soft butter (and extract if used) and the buttermilk slowly while whisking. Sieve the flour mixture into the wet batter in two batches and mix in between, just until all the flour is dissolved, we don't want the beautiful airy texture to be ruined. Pour ⅓ of the batter into the previously flour bowl, sieve 5 grams od matcha powder, and fold it gently into the batter until green and grainy looking (it changes when baking). 
In a loaf lined pan, pour ⅔ of the white batter. Then, the matcha batter on top, making sure you reach all the corners of the pan with that green stuff. And then finish with the white batter again. Flatten it out with a spatula and make swirls using a knife to create the marble pattern. Bake in a preheated oven to 170℃ for 30-35 minutes, or until a toothpick comes out clean. 
Note: this cake is not so sweet, so if you prefer your cakes more to the sweeter side, consider adding between 20 and 40 grams of sugar. I prefer it the way it is but up to you.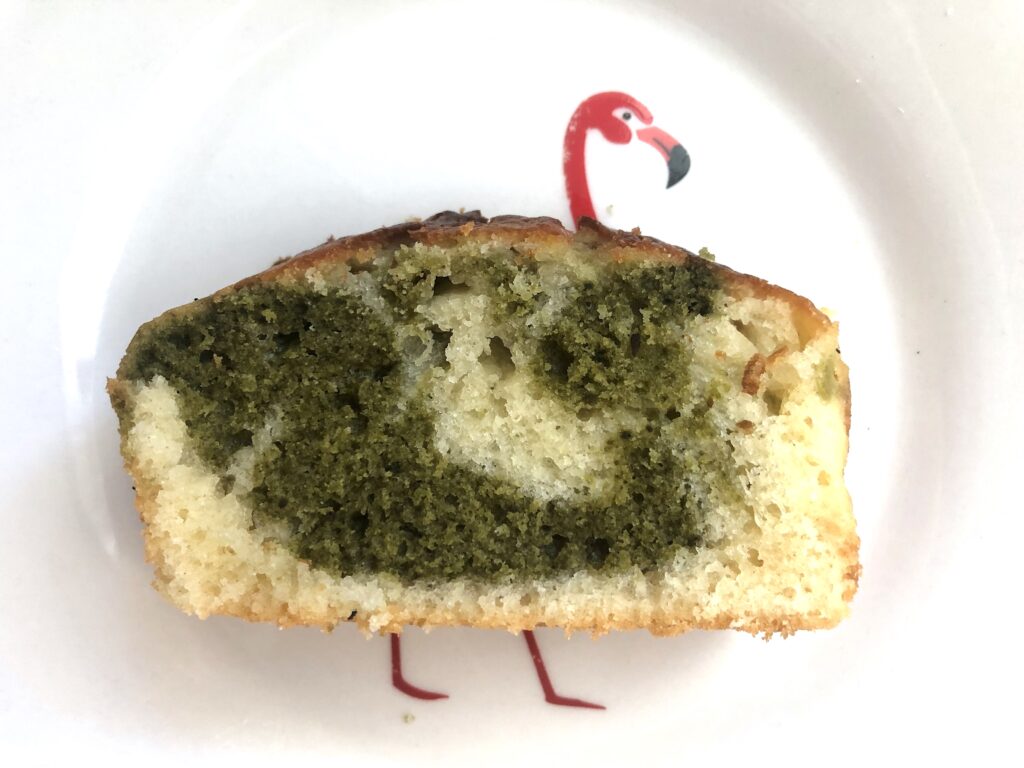 If you make it, please tag me @ShirEats on Instagram. I want to see your creations!