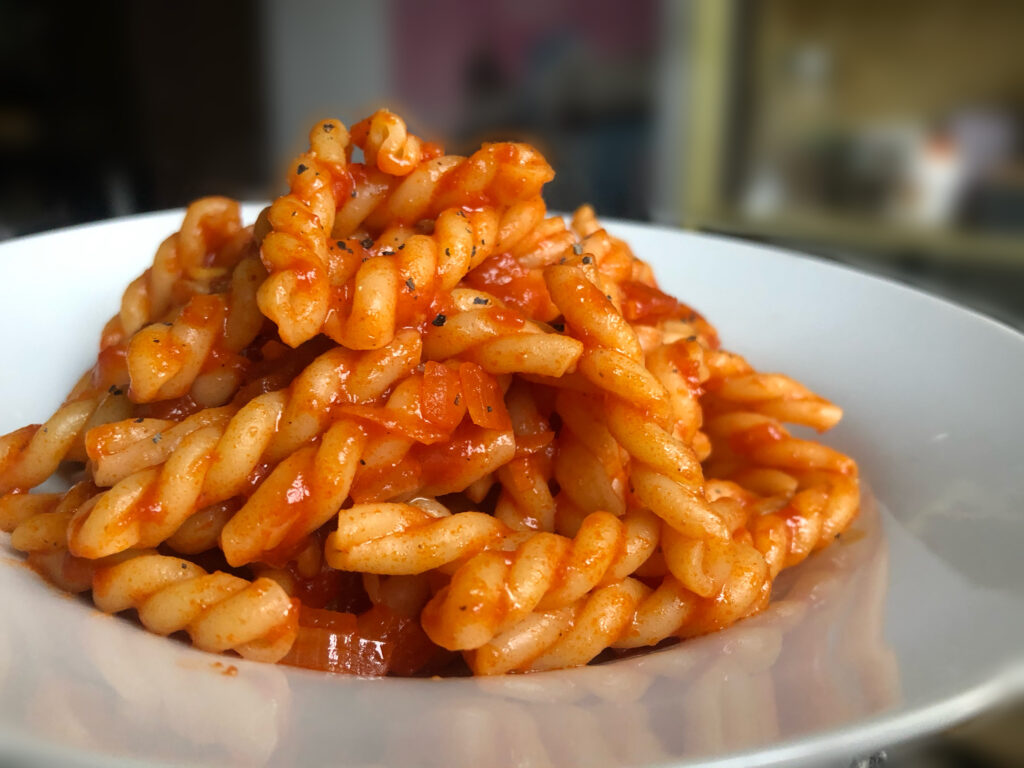 This is my go-to pasta for when I'm super hungry and lazy. Sometimes I even ditch the fresh onion and garlic cause I don't feel like cutting them, and it's still super damn tasty. If you have it, you can also add diced tomatoes. If you want to make it meaty, add some diced sausage at the beginning. The possibilities are endless. But the base is vegan, quick and so easy. 
This recipe is based on my mom's pasta sauce, the one I grew up over, the one I came back to from school. This is the pasta of my childhood. Without my mother's hand, intention, and love it is slightly different, but when I miss her too much, I imagine she made it for me and I'm a teenager coming from school again. So the fact it is easy doesn't subtract flavor from this dish. 
Lazy tomato sauce pasta
1 serving
Ingredients:
– 100 gr pasta
– 1 tbsp olive oil
– 1 clove of garlic (optional)
– ½ an onion (optional)
– 1-2 tbsp tomato paste
– ½ tsp black pepper
– ½ tsp cumin
– 1 tsp paprika
– ½ tsp garlic powder
– 1 tsp salt
– ½ tsp sugar
– Pasta water
Boil a pot of water. While the water is boiling, heat a skillet on medium heat. Mince the garlic and dice the onion. If you're not using them, just skip this step. Add olive oil to the skillet and the onion. When the onion is soft, add the garlic and spices – pepper, cumin, garlic powder, paprika. Let it fry for 30 seconds, then add the tomato paste. When the water is boiled, add the pasta and a tablespoon of salt to the pot, let cook. Add some of the water to the skillet to form a saucy consistency. Add salt and sugar to the sauce, mix together, taste, and fix seasoning. 
When the pasta is al dente, add it to the skillet with the sauce and mix. Add some of the pasta water if needed. But whatever you do, do not drain it completely and add oil to it. We want the sauce to stick to the pasta, and the oil will prevent that from happening. Mix together and it's all cohesive and cute. Add some of the hot water to the bowl to heat it, pour the water out, add the pasta, grind some black pepper on top (and parmesan/pecorino cheese if you want to) and enjoy!
If you make it, please tag me @ShirEats on Instagram. I want to see what you came up with!
Thie dish is also a part of my Pasta Sauce video on Youtube: