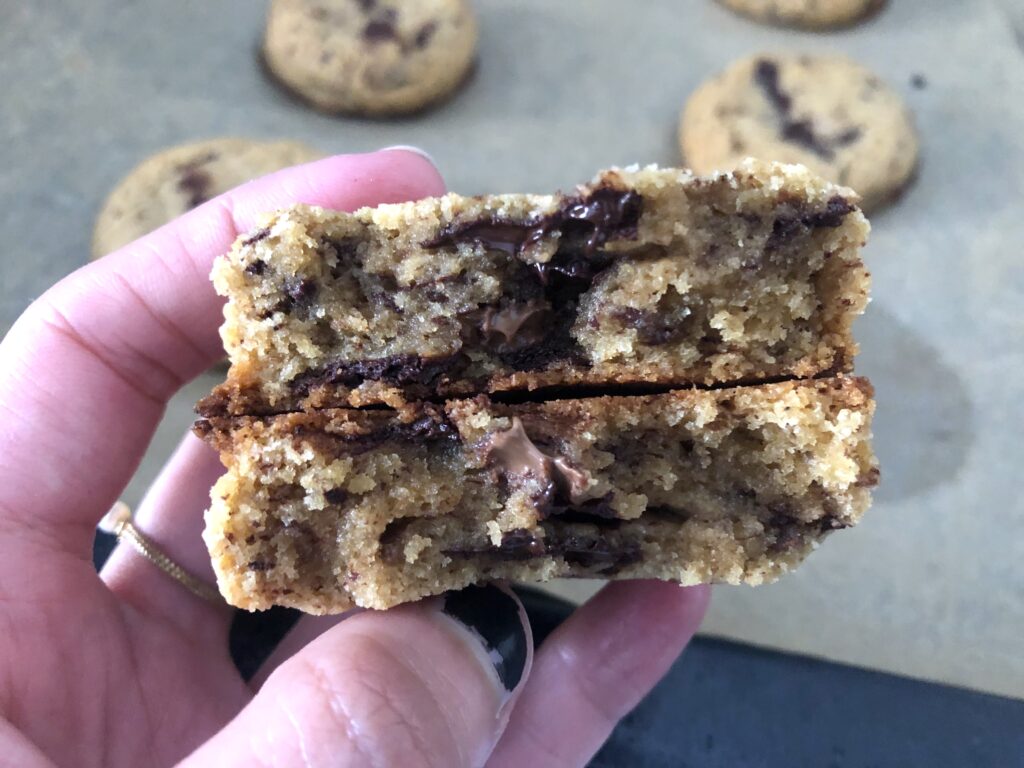 This is the recipe for all the people who want to start baking. They are easy to make and turn out perfectly every time, even if you don't have a lot of baking experience. The cookies are definitely on the chewy-chubby side of the cookie scale. For a flat crispy result, use a different recipe. Those cookies are soft, chewy, gooey with lots of chocolate. I make them when my chocolate craving is too urgent to handle. Jump to recipe.
I like this recipe because the result is sweet-salty, the size is just perfect, and they are really simple to make. Really, anyone can ace them. So if you want to start somewhere, these are the cookies for all of the baking-frightened people. I believe in you! You can do this.
The recipe is based on this Levain's bakery imitation recipe with a few alterations.
Chewy Chocolate Chip Cookies
14 cookies
Ingredients:
– 140 gr dark chocolate (you can use other kinds and also nuts, your choice)
– 200 gr flour
– ½ tsp baking powder
– ⅛ tsp baking soda
– 5 gr salt
– 115 gr cold butter, cubed
– 80 gr dark brown sugar
– 40 gr sugar
– 1 egg
– ½ tsp vanilla paste


Cut the chocolate into small pieces (or use chocolate chips, I personally prefer regular chocolate). In a medium bowl, mix flour, baking powder, baking soda, and salt, and set aside. Using a hand mixer, cream the butter with the sugars until bright and fluffy. Add the egg and the vanilla and mix again until incorporated. Sieve the flour mixture in two batches into the mixer bowl and mix until almost fully incorporated. Scrape the edges, add the chocolate and mix again using a wooden spoon or a silicone spatula. Create 44-45 grams balls and freeze for 30 minutes on a tray lined with baking paper so they wouldn't stick to it.
Heat the oven to 170℃. When the oven reaches the temperature, take the cookies out of the freezer and spread them on a baking pan lined with baking paper (or use the one you used for the tray. Another option is to freeze the baking pan with the cookies spaced from each other, if you have space In the freezer, I don't). Drizzle some Maldon salt on top and bake for 12 minutes. Take them out of the oven and press them down lightly with a straight-bottomed object like a small saucepan or a glass.
Let them cool on the baking pan for 15 minutes, so they set. For the full gooey effect, open a cookie in the middle (using your hands! don't use a knife or a spoon). Store in an airtight container for 4-5 days tops for the ideal state (no worries, after two, there's nothing left). If you don't bake all 14 cookies at once, put the cookie balls in a ziplock bag after they set in the freezer, store them until you crave something yummy. Bake them directly from the freezer, the same way.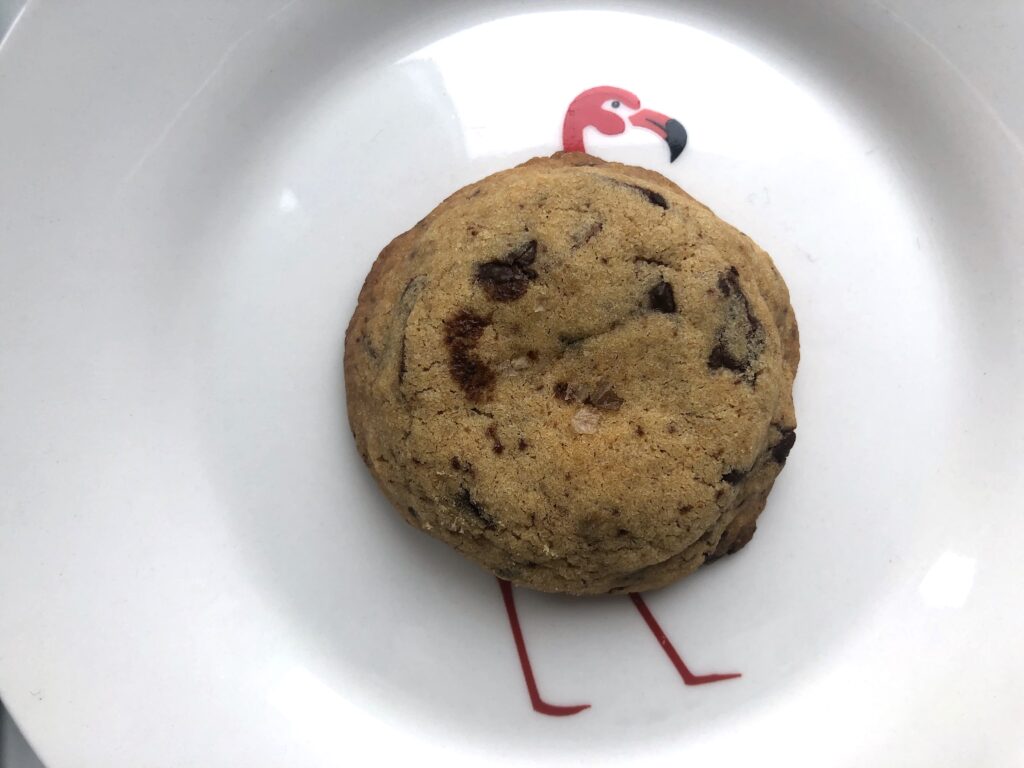 If you make them, please tag me @ShirEats on Instagram. I want to see your creations!