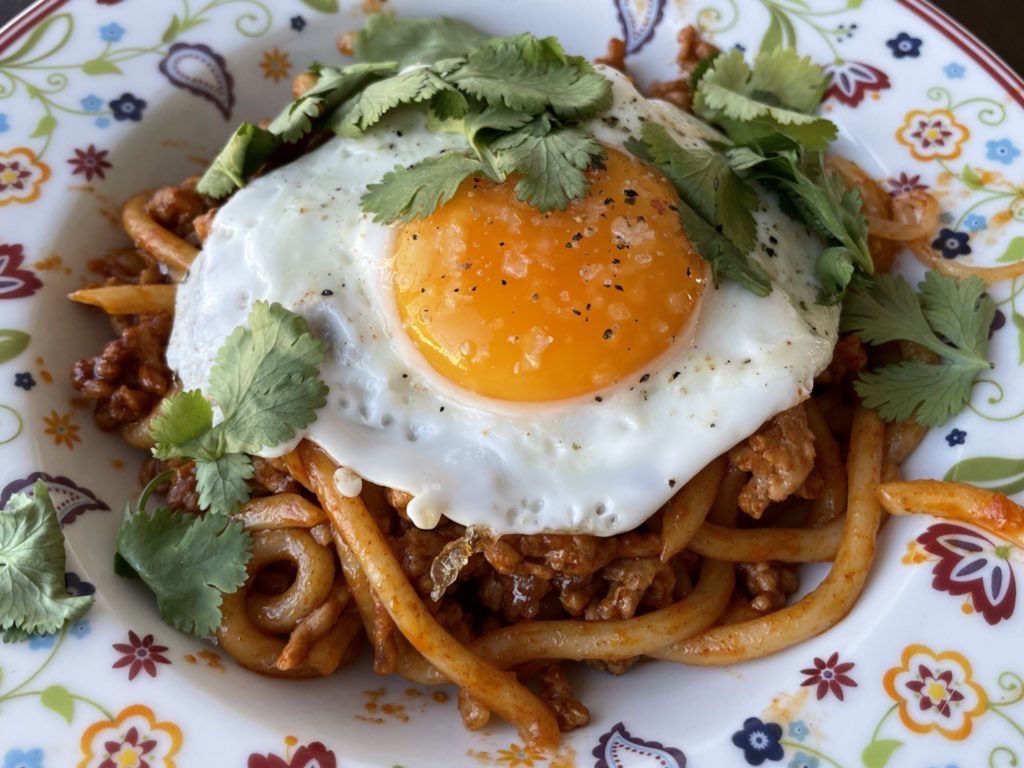 This is almost a no-recipe recipe since you adjust the amounts to your liking; however, I measured how I made it to make sure more people can enjoy this delicious and easy dish. Taking the idea from a dear friend, I tweaked the amounts and created the best recipe for my palate. Ever since I discovered this idea, it's my number one thing to do with minced pork or beef, especially when I'm feeling very lazy but still want to eat well.
There may be periods in your life when you are uninspired, unmotivated, and just tired in general. However, with this recipe, you won't let this mood affect how you eat. Highly recommended to serve with a fried egg or soy-marinated egg on top, and a Korean cucumber salad next to it for extra crunch and freshness (also keeps in your fridge for quite a while and doesn't take too much to make) or even kimchi.
Easy Udon Stir-Fry
2 servings (or one big one)
– 2 tbsp olive oil
– 2 garlic cloves
– 1 tsp fresh ginger
– 250 gr minced beef/pork
– 200 gr udon noodles (one packet)
For the sauce:
– 1 tsp soy sauce
– 2 tsp Gochujang (Korean chili paste)
– ½ tsp fish sauce
– 1 tsp sesame oil
– 2 tsp water
– A pinch of sugar
– Salt and Pepper
For Serving: (all optional)
– 2 eggs
– Chopped cilantro
– Roasted sesame seeds (or black sesame)
Method
Mince the garlic and ginger finely. Heat a large skillet on medium-high heat. Add the olive oil and when the skillet is hot, add the minced meat. Break it in the pan into small pieces (otherwise, you're going to end up with awkwardly-looking meatballs), and make sure it gets a nice color on it. When half of the meat is browned slightly, add the ginger and garlic and stir again. Let it cook, stirring occasionally, and in between make the sauce.
Mix together all the sauce ingredients, I like to use a baby whisk, it helps all the ingredients incorporate better into each other. Transfer the udon noodles from the packet into a bowl and cover with hot water. Separate the noodles using chopsticks or tongs. Stir it for a few minutes then drain the water. When the minced meat is nice and browned, lower the heat and pour half the amount of the sauce over it, mix well, add the noodles and the rest of the sauce and stir again till everything is well coated. Serve in a deep dish.
If you serve it with a fried egg on top (highly recommended), this is how I make it: In a small skillet on low heat with a teaspoon of olive oil, add your egg carefully, not the break the yolk. Cover halfway with a lid and let it cook until the white is completely set and the yolk is still glossy. Using a silicone spatula, separate the bottom of the egg from the pan. Carefully transfer the egg onto your bowl of udon, sprinkle some chopped cilantro and sesame seeds and enjoy.
If you make them, tag me on TikTok or Instagram – @ShirEats I would love to see what you made!