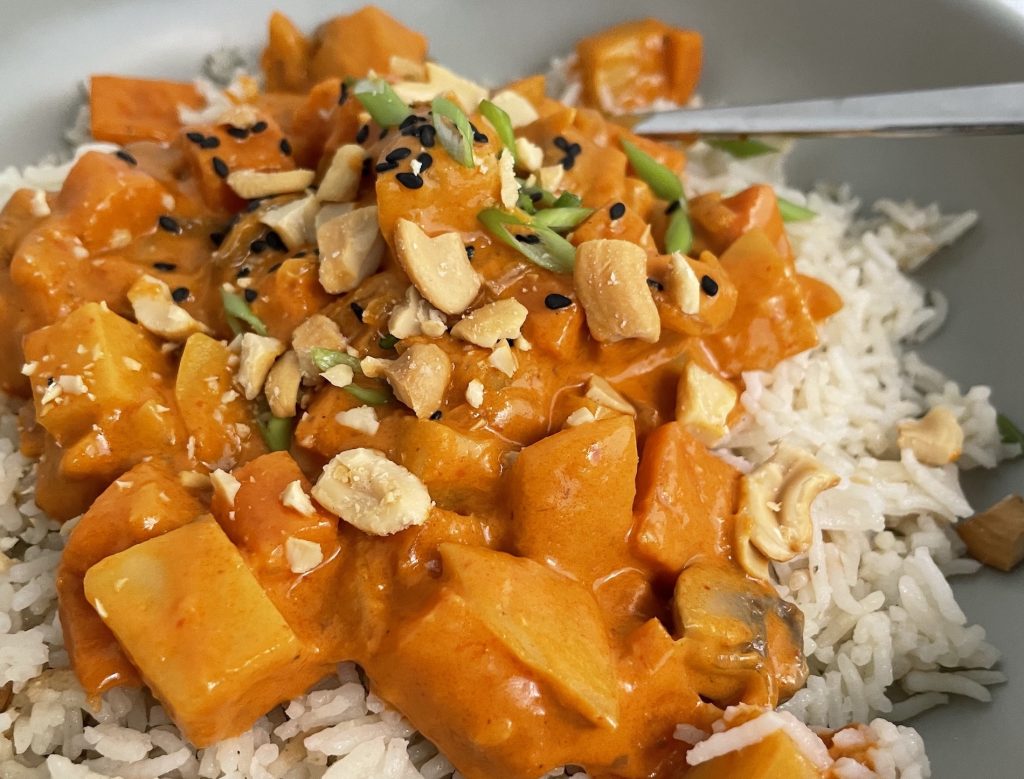 I'm not trying to offend any culture with this recipe. It's inspired by Thai massaman curry but is also inspired by ingredients I often have on hand so it doesn't stay true to the Thai way of making it. You can also make it with any other curry base you've got, but if you use red avoid adding more chill to it cause this paste is spicyyyy. It also worked with yellow curry. For the green curry, it'll be better the replace the very orange veggies with something milder like cauliflower and use more greens like beans, broccoli, and zucchini, but the idea is basically similar. 
This is just an idea for using this paste that lasts forever in the fridge. So treat all of the ingredients as flexible. Use whatever veggies you have, whatever paste you have. Let's start.
Massaman Curry with Tofu
4 servings 
Ingredients:
– 200 gr firm tofu
– 3 tbsp massaman curry paste (or red, yellow, green)
– 200 gr full-fat coconut cream (1 can)
– Optional: 1 tbsp of tomato paste (helps reduce the heat of the red curry)
– 1 medium onion
– 2 cloves of garlic
– 1 tsp grated fresh ginger
– 1/2 butternut squash/3 small potatoes/1 medium sweet potato
– 3-4 medium carrots
– 1 cup of frozen peas/green beans
– Optional: Bell pepper (more traditional), mushrooms (very not traditional)
For serving:
– 1 scallion
– Crushed roasted peanuts/cashew
– Sesame
Method:
Start by pressing the tofu; cover the tofu piece with a paper towel and place it between two flat objects followed by a heavy pot on top. Rotate the tofu to make sure all the water is out. Peel the potato/sweet potato/butternut squash and carrots and cut them into same-sized cubes. Dice the bell pepper as well if using. Cut the onion into halves, remove the outer layer and stalks and slice into thin strips. Chop the garlic and ginger finely. If using mushrooms, clean them (the way you prefer) and cut them into big cubes (they shrink), or just tear them into chunks by hand. Dice the pressed tofu into medium-sized cubes.
Heat a big pot on medium heat. Add the curry paste with 1 tablespoon of the coconut cream. Mix together for 2-3 minutes until fragrant. Add the onion, ginger, and garlic and stir together. Add the rest of the coconut cream (and the tomato paste if using) and cook to a simmer. Add the carrots first and let them cook for 5 minutes. Then add the starchy potatoes/sweet potato/squash, they tend to cook faster than the carrots. After a few minutes, add the bell pepper/mushrooms if using. Lastly, add the frozen peas/beans and tofu and mix well. Serve over Jasmin rice for the full effect (I often use Basmati, don't tell anyone). Sprinkle scallions, crushed nuts, and sesame, and enjoy.
If you make them, tag me on TikTok or Instagram – @ShirEats I would love to see what you made!